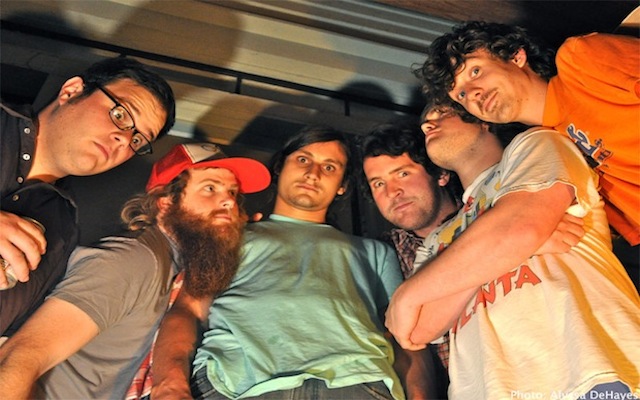 A couple of weeks ago, we shared with you the new Futurebirds song "Hotel Parties," the title track off their new album. The record dropped Sept. 25, and now the group are headed to Mercy Lounge tonight, Oct. 2 so you can get a taste of it live. Joining them are Americana songwriter-turned-band Susto and the southern and dreamy local Becca Mancari. The show is at 9 p.m. and it's only 12 bucks. Read below to learn more about the bands, and head here get your tickets.
FUTUREBIRDS
The twangy alternative rockers are coming back to Mercy Lounge this weekend, and this time they're headlining. Futurebirds are currently on tour in support of their new album, Hotel Parties. The Athens, Georgia band put a psychedelic, introspective spin on southern rock. Their show is sure to be rowdy. Hear their single below, and be sure to pick up a copy of the album.
SUSTO
South Carolina artist Susto toured independently throughout the South before becoming a full band and releasing a self-titled album and later a live album. They have a reflective style of songwriting and mellow country sound, making them the perfect act to precede Futurebirds. Check out a track from their debut album below.
BECCA MANCARI
Virginia-to-Nashville transplant Becca Mancari will start the night off with dreamy mountain music. She's on the rise in Nashville post-release of her summer single "Summertime Mama." It's a light, romantic track and her voice makes it all the better. Hear the song below and catch her while she's in town.
Futurebirds, Susto, and Becca Mancari will perform tonight, Oct. 2 at Mercy Lounge. The show is 18+, begins at 9 p.m. (doors at 8 p.m.), and tickets are available for $12.