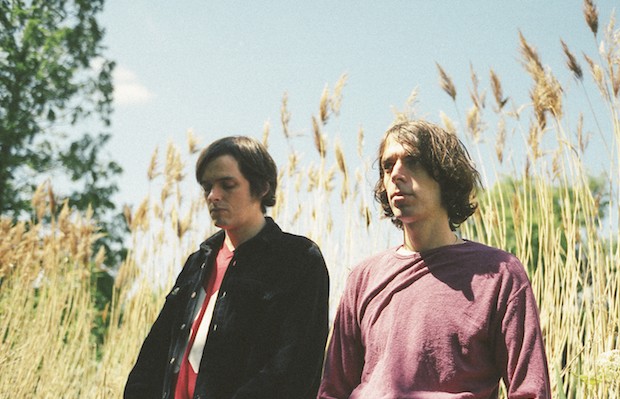 Ultimate Painting
w/ Salad Boys and Paperhead
The Blue Room @ Third Man Records; Nashville, TN
September 24, 2015
Words by Jacob Ryan (@GonzoWithGusto).
Anytime Jack White rolls out the red/white/black/yellow carpet, opening up the performance space of Third Man Records to the general public (and his legion of die hard fans for that matter), it's sure to be a good night of music. Last Thursday night was no exception, when British psych rockers Ultimate Painting headlined a top-notch bill, featuring fellow Trouble In Mind records roster members Salad Boys, and locals Paperhead. Continue on after the jump for our take on another splendid showcase hosted by the good people at TMR.
For only my second visit to The Blue Room at Third Man Records, the line-ups don't get much better (see my first adventure with Parquet Courts in this post). As is Blue Room tradition, tickets were well under $20, and the performances would be recorded live directly to tape, to be released later as special, limited edition black and blue vinyl. Jack White certainly knows how to appeal to crate digging record fanatics, and he also books good shows to boot.
We arrived to find the venue about half full, with a good mix of people: Lebowski-esque burn-outs in their late 30s or early 40s, die hard Third Man Records kids, hipster couples, and long-haired Music City musicians who would later crowd to the front of the stage, eager to steal some tricks from the performers or take notes on what gear they use. Ulterior motives aside, were all there to enjoy an evening of great psych rock, although all three bands version of said sub-genre had a slightly different flavor.
After grabbing a beer and settling in, it was time to kick out the jams. First up were local collective Paperhead, whom we've been raving about for at least two years now. Their latest release, Africa Avenue, has held my attention since it's release in late 2013, but this would be my first time seeing them in the flesh, and they would not disappoint. Their super trippy, extended-jam laced arrangements were the perfect appetizer to the evening's three course auditory meal. All three bands are on Trouble In Mind records, a great indie label out of Chicago, and, if they keep signing acts like I saw Thursday night, than they are surely a label on the rise. Paperhead jammed out their short but sweet set, they thanked the growing crowd, and made way for the next performers, while we took a smoke break.
Making the long, long trip all the way from New Zealand, Salad Boys are a young power-trio who have a psych rock edge soaked in grunge rock tones. Combining elements of Nirvana and Dookie era Green Day, SB are just rough enough, with some real talented picking as well. This was obvious when their frontman/guitarist busted out his electric 12-string, and proceeded to shred it raw, popping strings in the process, making it a 10-string.
"I won't, let you, fuck it up!" He sang in his thick Kiwi drawl, on a fast-paced romp in the middle of their set. This is when Salad Boys are at their best, revving up the horse power, and drenching us in sludgey bass lines and fuzzed out guitar. It was the band's first time in America, and I can only hope future crowds on their current tour will be loving them as much as I was.
Before the headliners took their turn, a Third Man confidant took to the mic to encourage everyone to take one giant step closer to the stage, which the crowd oblidged. He also reminded everyone that the entire performance would be recorded live, so we should all be as loud as possible if we wanted to live in infamy forever on wax. The now sufficiently inebriated audience took note, hooping and hollering more then they had all night for the rest of the show.
Accomplished musicians in their native lands (Britain, in case you missed that tid-bit earlier) through various other projects, Ultimate Painting are one of the best newer psychedelic bands to break out onto the scene in the last several years. Their current record, Green Lanes, is more of the wonderful trance inducing  jams we've come to expect from them. Live they evoke the Grateful Dead a bit, or a less sloppy version of Brian Jonestown Massacre. Maybe even a little fuzz from a band like Pavement mixed in for good measure. Their entire set was inspired, but I think my favorite track of the night was "It's On You," which they stretched out a little longer than usual. The crowd was loving it, and doing their best to be heard on the yet-to-be-released record. If you were in attendance, take your ticket stub to Third Man to claim your copy, but hurry!
Shows at the Blue Room always run on a tight schedule, because of the live recording process, and Thursday night's gig was no different. Each band got about forty minutes, no muss, no fuss, and we were all on our way, just barely three hours after we arrived, with amazing psych rock riffs filling our heads. Anytime you can get to the Blue Room for a performance, do so, because it is truly one of the most unique venues in all of Nashville. Considering it's run by the prince of indie, Jack White, how could it ever suck?