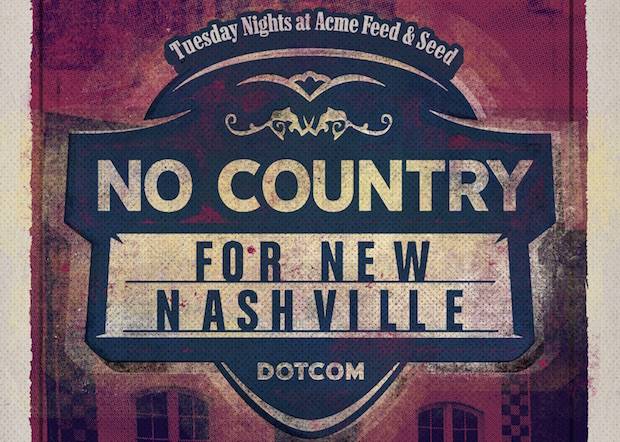 Attention all show hounds, No Country Presents' weekly showcase at Acme Feed & Seed continues to roll on as summer turns to fall! This Tuesday, Sept. 29 features Texas troubadour Ray Cashman, alt-folk rockers Waterfall Wash, and, in their final date of a September residency, alt-popsters All Deeds Done. As we do every week, we're bringing you all this music for FREE starting around 7:30 p.m. Get there early for some Southern cookin', and to cash in on a full night of live music. For more info on the bands, please read on, and we look forward to seeing you all again on Tuesday. 
ALL DEEDS DONE
No Country Presents alumnus, and three piece power alt-pop outfit, All Deeds Done, have held our attention with their infectious melodies, and Weezer-esque songwriting. Hailing from just north of Nashville, over the Kentucky border in Bowling Green, the band is still relatively new on the scene, but they've been generating a lot of buzz, thanks in small part to a September Acme residency that they will be finishing up the 29th. Please have a taste below, and come out on Tuesday to decide for yourselves if All Deeds Done are the real deal.
WATERFALL WASH
A band we've been digging for awhile now (read this post), Waterfall Wash were so great the last time they performed at Acme, we had to ask them back. It's been awesome to watch them transform from jammy folky friends just having fun, to one of the tightest indie rock outfits in Nashville. See for yourselves what we are gushing about when they put it down next week.
RAY CASHMAN
Hailing originally from Conroe, TX, Ray Cashman grew up listening to older black men play guitar, while they sang and drank. First and foremost he considers himself a songwriter, and a guitar player second, but we are here to tell you he can hold his own in both disciplines. A blues man in the purest sense, Cashman also spent some time in the army, but now calls Nolensville, TN home, so be sure to support a veteran picker at Acme this Tuesday.
All Deeds Done, Ray Cashman, and Waterfall Wash will perform Tuesday, Sept. 29, at Acme Feed & Seed. The show is 21+, music begins around 7:30 p.m., and, per usual, it's totally FREE! Downtown PARKING can sometimes be an issue. However, if you're willing to walk a few blocks, street parking is typically easy to find on the numbered avenues south of Broadway or along Korean Veterans Blvd, and metered spaces are often free after 6 p.m.