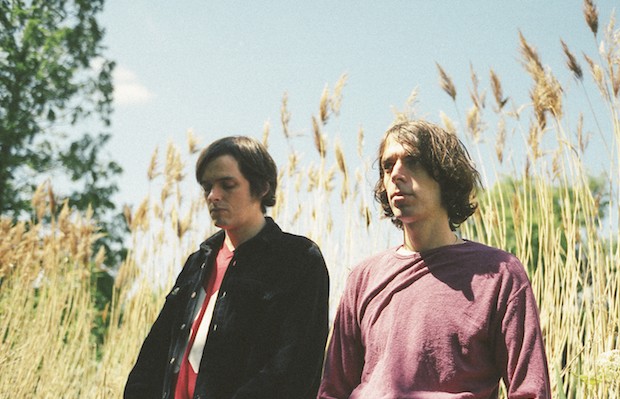 Fans of lo-fi psych rock and Third Man Records disciples rejoice! Tonight, in the world famous Blue Room at Third Man Records, Ultimate Painting will be headlining a low dough show that will be sure to get your juices flowing this Thursday evening. Look for UP label mates Salad Boys and the always wonderful local outfit The Paperhead to kick off the night. Tickets to this all-ages shin-dig are still available, for just $10, so secure your spot now, while you still can, and get your ass to TMR by 8 pm (doors at 7). We've already told you everything you need to know, but if you want to learn more about the bands read on after the jump, and we hope to see you tonight at Jack White's record shop.
ULTIMATE PAINTING 
An already distinguished UK duo comprised of Jack Cooper and James Hoare, Ultimate Painting are simple psychedelic rock at it's best. The two spent time touring together with various other acts before building a friendship. During breaks in touring, demos were recorded and swapped, which all eventually led to their debut release on Trouble In Mind Records, a top indie label out of Chicago, which Third Man strongly suggests you check out. The record was/is thoroughly adored for its uncomplicated, beautifully calm, fast and loose approach to riff-making and song craft. The the follow up, Green Lanes, was released last month, not even a year after they dropped their debut, so it's safe to say these guys can churn out the tunes. See for yourselves tonight what tickled TMR's fancy enough to extend a coveted Blue Room invite, and don't spend a fortune doing it.
SALAD BOYS
Fellow Trouble In Mind Records artists Salad Boys have made the long trip all the way from New Zealand, to help support tonight's headliners on tour. The band came together towards the end of 2012, forming as many bands do (Ultimate Painting included), with members messing around in their spare time during breaks from other groups. Their name comes from a misheard line from a The Feelies song "Fa Cé La" – a joke name that they had assumed they'd change eventually, but never did. Their sound is an assault of clanging guitars, intoxicating psych drones,  and an abundance of dazzling pop hooks that will snatch you up in no time flat. It is also the trio's first adventure in the U.S. so be sure to show them some love when they invade the Blue Room.
THE PAPERHEAD
Nashville break out psych popsters The Paperhead released Africa Avenue in late 2013, and it remains one of our most regarded records from the local scene in some time.  After some fairly extensive tours in support of the LP, they've been popping up on more local bills of late, which makes us wonder if they are in town working on a new record. Any date in the Blue Room is also very worthy of note, and, at the very least, it's another notch on some local rockers belts. Maybe we'll get the chance to see what they've been working on tonight, and, if you haven't gotten familiar yet, get there early, so you don't miss your chance to support our local indie rock scene.
Ultimate Painting, Salad Boys, and The Paperhead will perform TONIGHT (9/24/15) at Third Man Records, in the Blue Room. The show is all ages, begins at 8 pm (doors at 7), and tickets are available for $10.