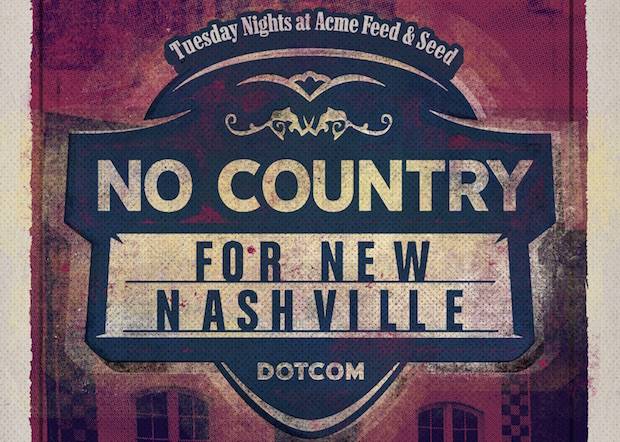 Our weekly No Country Presents showcase down on Broadway at Acme Feed & Seed continues for another week, as we keep providing the denizens of one of music history's most iconic streets-turned-tourist-traps with genres aside from pop-country covers to enjoy. Coming up on Tuesday, September 8 we're bringing one of our most varied bills yet, with alternative pop group All Deeds Done continuing their September residency, as well as appearances by hip-hop act Perceptive and rock band Phil Stanley & Naughty Water. As it does every week, all this gets started at 7:30 p.m., and it is completely free! If you haven't heard by now, there is actually a cool contemporary music happening on Broadway, and we're bringing it there. Read on to find out more about the artists on the bill.
ALL DEEDS DONE
We liked All Deeds Done when they played the showcase back in May so much that we asked them to do a residency for us for all of September. The trio of Bowling Green, Kentucky natives play alternative pop-rock in the vein of Weezer and the Arctic Monkeys. With their catchy, danceable melodies we wouldn't be surprised to see them get real popular, real quick.
PERCEPTIVE 
Perceptive is a new local hip-hop act featuring rapper Allen Wilkereson and producer Mike Gicz. They've released one single so far, "Bandages," but are rumored to be working on an album with Nashville soul legend Charles "Wigg" Walker.  Needless to say, we're waiting with bated breath to hear more from that effort, and to get our first opportunity to catch Perceptive live.
PHIL STANLEY & NAUGHTY WATER
Phil Stanley & Naughty Water just released their debut record, Broadside, last month. It features folky, jangly old-fashioned rock and roll with a heavy nod to the '60s British invasion. Hints of psychedelic and blues, plus nasally Devil-may-care vocals add to that late '60s vibe, which is likely to be embraced by Nashvillians if we can judge based on how they dress. Regardless of your feelings about the current bohemian trend, the era did have some great tunes.
All Deeds Done, Perceptive, and Phil Stanley & Naughty Water will perform Tuesday, Sept. 8, at Acme Feed & Seed. The show is 21+, music begins around 7:30 p.m., and, per usual, it's totally FREE! Downtown PARKING can sometimes be an issue. However, if you're willing to walk a few blocks, street parking is typically easy to find on the numbered avenues south of Broadway or along Korean Veterans Blvd, and metered spaces are often free after 6 p.m.