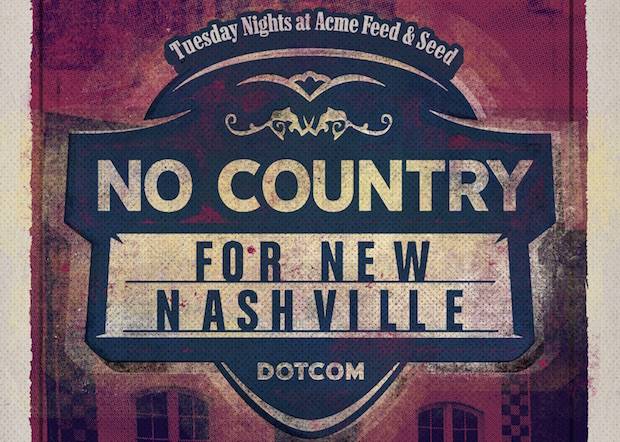 Attention all show hounds, No Country Presents' weekly showcase at Acme Feed & Seed continues to roll on as summer turns to fall! This Tuesday, Sept 1 will feature folk rockers The Way Down Wanderers, singer/songwriter Justin Forrest, and alt-popsters All Deeds Done. As we do every week, we're bringing you all this music for FREE starting around 7:30 p.m. Get there early for some Southern cookin', and to cash in on a full night of live music. For more info on the bands, please read on, and we look forward to seeing you all again on Tuesday. 
ALL DEEDS DONE
No Country Presents alumnus, and three piece power alt-pop outfit, All Deeds Done, have held our attention with their infectious melodies, and Weezer-esque songwriting. Hailing from just north of Nashville, over the Kentucky border in Bowling Green, the band is still relatively new on the scene, so please have a taste below, because we liked them enough to ask them back to play all of September. Come out on Tuesday to decide for yourselves, when they close out our Acme showcase this week.
JUSTIN FORREST 
Picking up the guitar at the tender age of seven, and basically never looking back, Justin Forrest grew up finding himself though music. The proof is in the pudding my friends, because his songs are a fabulous romp through blues, soul and rock arrangements with radio ready lyrics laid over top. As a talented 22-year-old musician, he burst onto the Nashville music scene in 2012 with a win at the SESAC Next Project Showcase. His debut record, Chapters, followed, and he's been riding high ever since. Enjoy the video for "City Life" below, and watch him light up our showcase.   
THE WAY DOWN WANDERERS
An alt-folk outfit that actually hails from up north (as in Chicago), The Way Down Wanderers are a fast-paced, five-piece pack of pickers. Playing tradtional folk instruments, like mandolin and banjo, in unique and fun ways to draw audiences in. Their soulful songs, over mostly acoustic instrumentation, will be the perfect start to a night of awesome (FREE!) music.
All Deeds Done, Justin Forrest, and The Way Down Wanderers will perform Tuesday, Sept. 1, at Acme Feed & Seed. The show is 21+, music begins around 7:30 p.m., and, per usual, it's totally FREE! Downtown PARKING can sometimes be an issue. However, if you're willing to walk a few blocks, street parking is typically easy to find on the numbered avenues south of Broadway or along Korean Veterans Blvd, and metered spaces are often free after 6 p.m.