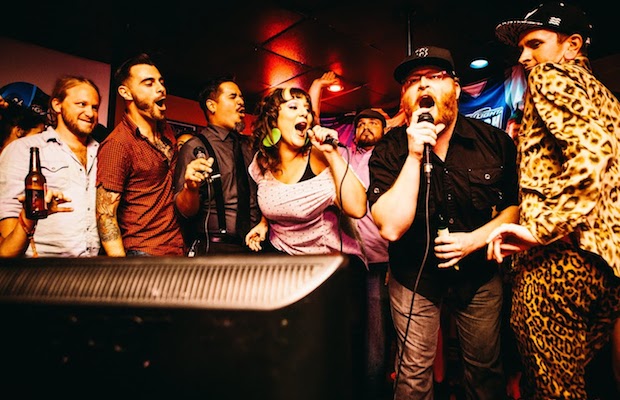 No Country for New Nashville is happy to give you a sneak peek into an amazing bill for tonight. A whole lot of soul will be taking over the town when Alanna Royale, Kansas Bible Company, Holy Ghost Tent Revival, and Twiggs perform tonight. These bands are personal favorites, and definitely require your dancing shoes. Head out to The Basement East at 8:45 to dance off your weekday blues, and experience some musical soul food.
Alanna Royale
One of No Country's favorites and Nashville celebrities, Alanna Royale will headline the show. We've been with them since their beginning shows in Nashville to when they toured across the country with legend Lee Fields. Vocalist Alanna Quinn Broadus leads the six-piece with powerful force, and the band has a soulful and funky classic sound with a fresh Nashville twist. There's no chance anyone in the audience will be standing still for even a second during this set. Their live show is dynamic and memorable; they're just the performance to spice up your weekend.
Kansas Bible Company
This 12 person ensemble is sure to bring the groove for the night. They've become festival frequents and touring favorites in addition to their local stardom since the release of their album, Chicamauga and their 2014 Road to Bonnaroo win. Self-described as "a wrecking ball of sound", the five horn section that fronts the band is just that. Their progressive jams and psychedelic surf sound culminate for soulful and passionate rock and roll. These No Country favorites are paving a way for themselves among other jam bands and southern rockers. You won't want to miss their energetic set.
Holy Ghost Tent Revival
With three albums out and an impressive touring roster, this group's live show experience is just the icing on the cake. The jazz group bring impressive horns, blues and folk to their unique style of rock. Holy Ghost Tent Revival is reminiscent of southern brass bands as well as classic acts of the 60s. They attract attention wherever they go- as documented in their recent mini documentary. They've developed their music and style for years, and now is your chance to experience it.
Twiggs
These Nashville transplants, who are set to release a new album September 7, have definitely been on the radar of many local music fans. Their 2013 self-entitled album established them as mellow indie rockers with talent to spare, and prompted us to book them at one of our recent Acme showcases. They're the perfect moody band to get the night started.
Alanna Royale, Kansas Bible Company, Holy Ghost Tent Revival and Twiggs will perform Friday, August 14 at The Basement East. The show is 21+, begins at at 8:45 p.m. (doors at 8:00 p.m.), and tickets are available for $10.