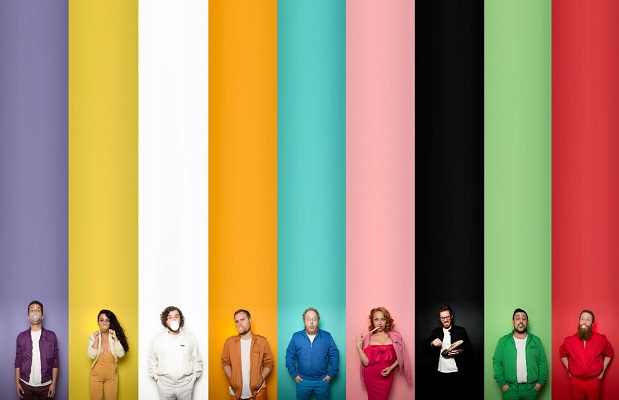 Horn sections aren't very common here in Nashville. We are often thought of as a guitar town, whether it be the string of acoustics that line Broadway or the electric shredders in East Nashville. But tonight, August 12th, Exit/In will be full of horns and grooves as Nashville local Marquee Mayfield, CBDB from Tuscaloosa, and the dance party from Brooklyn known as Turkuaz bring the funk in every essence of that all too popular phrase. Jam Band and funk fans alike can rejoice in this stacked lineup for the midtown venue  The show is 18+, and you can grab your $10 tickets right here. Doors are at 8pm, and the show starts at 9pm. Be sure to bring a change of shirt for all the dancing you'll be doing and scroll down for our full show preview.
Turkuaz
Hailing from Brooklyn New York, Turkuaz are a nine piece funk outfit that take a modern day twist to the genre. Not only do they draw inspiration from funk pioneers like Sly and The Family Stone and Parliament, but they add elements of psychedelic and electronic music that makes for a well-rounded and healthy blend of many types of dance music. Their new album "Digitonium" is a full-fledged force of synthesizers, horns, and tasteful grooves that keeps the listener intrigued and moving. The band has made their mark on the jam and festival scene and doesn't plan on stopping there. Nashville finds them in the midst of a nationwide tour hitting as many cities as possible. With the eclectic blend of styles they have, Music City is pleased to welcome them in and have them provide the soundtrack to a rowdy and soulful night.
CBDB
CBDB's self-proclaimed description of "joyfunk" sets the standard for their shows. Singer Cy Simonton delves further into this description by mentioning that, "It's an intentional mesh of technical playing with more organic improvisation, wrapped up in good songwriting and catchy hooks." The band hails from Tuscaloosa, Alabama and has been playing since 2011. They released a new album in February of this year entitled "Joyfunk is Dead". This month finds them touring through the south. With their upbeat and energetic sound that isn't afraid to switch from clean to distorted at any moment, CBDB are sure to put on an awesome spectacle of a live show here in Nashville.
Marquee Mayfield
Marquee Mayfield has been in Nashville for eight years now. He draws his influence from some of the greatest Motown artists of the 20th century such as Curtis Mayfield, The Four Tops, and The Temptations. Mayfield has spent his Nashville past as a member of a plethora of different funk, soul, and R&B groups in the city. He now finds himself at the head of his group singing songs that combine a solid funk base with pop sensibilities. With this show being his only Nashville appearance for the foreseeable future, his set is not one to be missed.
Turkuaz, CBDB, & Marquee Mayfield will perform tonight at Exit In. The show is 18+, begins at 9 (doors at 8), and tickets are available for $10!