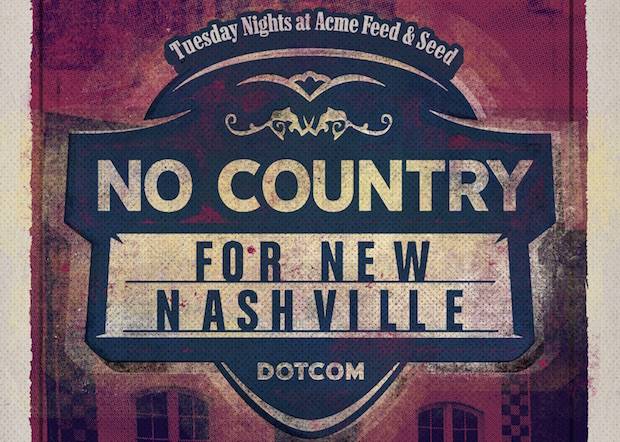 By now we hope you've heard, our live events production wing, No Country Presents, has taken up residence at Lower Broadway's hippest new restaurant, lounge, retail, and event space, Acme Feed & Seed, where we've been bringing you a weekly, FREE, Tuesday night showcase, featuring some of our favorite emerging local and national talent for exactly a year as of our next installment! The curated showcase runs from 7:30 to 10:30 p.m. each week, and has featured everything from folk to funk to rock to indie. For our next installment, on Tuesday, Aug. 11, we're bringing you an exciting local bill, boasting returning rockers Blackfoot Gypsies, Canadian garage rock transplant Zombie Garden Club, and indie folk trio Pageant. Keep reading to find out all about them, and cancel any other plans you might have Tuesday night, because you're coming to hang with us. Got it?
BLACKFOOT GYPSIES
Since their early days as a duo, local rock and rollers Blackfoot Gypsies have been one of our favorite live acts in town. Never bringing anything less then speculator energy, rocker spirit, and some seriously captivating tunes to their performances, the band, now a four-piece, are celebrating the release of their latest album, Handle It, undoubtedly one of the best local efforts of the year so far. Combining elements of rock, blues, garage, and even a dose of Americana, the Gypsies channel a strong affinity for retro rock (both in musical inspirations and in image), but their bombastic show, experimental slant, and eclectic sensibilities keep them balanced with a throughly modern appeal. They return to Acme after performing for one of our showcases earlier this year, and will be back the following week, on Aug. 18 as well (stay tuned for details on that one)!
ZOMBIE GARDEN CLUB
Originally hailing from Toronto, but now calling Music City home, Zombie Garden Club is the brainchild of multi-instrumentalist Johnny Douglas. With a love of vintage tones and a sound that can best be described as garage rock, Douglas crafted a remarkable, singalong-ready debut album under the Zombie Garden Club moniker, which has landed him numerous television placements and tons of underground attention. A great sonic compliment to Blackfoot Gypsies, these guys should definitely be on your radar!
PAGEANT
A group we've told you about a handful of times in the past, Pageant are made up of brother/sister duo Derek and Erika Porter, and rounded out by Stephen Allbritten. Boasting a timeless folk rock round with indie pop sensibilities and even a tinge of country, Pageant benefit from soaring harmonies, catchy hooks, and an inviting sound. The group's most recent album, Royal Blue, is available now, and they're already planning to release a new one, Endless Sun, in the fall. A definite local act to keep an eye on, be sure you show up early and show them some support.
Blackfoot Gypsies, Zombie Garden Club, and Pageant will perform Tuesday, Aug. 11, at Acme Feed & Seed. The show is 21+, music begins at 7:30 p.m., and, per usual, it's totally FREE. Downtown PARKING can sometimes be an issue. However, if you're willing to walk a few blocks, street parking is typically easy to find on the numbered avenues south of Broadway, or along Korean Veterans Blvd. Metered spaces are often free after 6 p.m.