Blackfoot Gypsies. Photo by: Mary Beth Blankenship.
Blackfoot Gypsies, Shane Piasecki
Acme Feed and Seed, Nashville, TN
01/13/15
Words by: Jacob Ryan (@GonzoWithGusto)
Photos by:Mary Beth Blankenship
Well, it was another epic Tuesday night at Acme Feed and Seed for our weekly No Country Presents showcase, thanks to southern rock 'n' rollers Blackfoot Gypsies and midwest blues crooner Shane Piasecki.  If you missed it, for shame! But don't fear, we have a full recap of the shenanigans after the jump, and we also have some amazing photos from staff photographer Mary Beth Blankenship that you need to check out. Make sure you come out for the 100% free performances next week, with Dara Sisterhen and Femke, come back every Tuesday that follows, and stay tuned to No Country for all things in local music worth knowing about.
Arising from an unplanned nap, I arrived at Acme just in time to order a beer and get situated for the first act. Toledo, OH, native and current Music City resident Shane Piasecki took the stage with his five-person ensemble and pretty much got right down to it, starting the night off with vibey instrumental jam to warm everybody up. Soon, he was working through originals and, true to his midwest heritage, some Chicago blues standards. He has an Andy Grammar pop sensibility, but with less polish/shtick, and a purely atmospheric blues backbone. He also slips into elements of folk and Americana at times, but the 12-bar bass line was nearly a constant.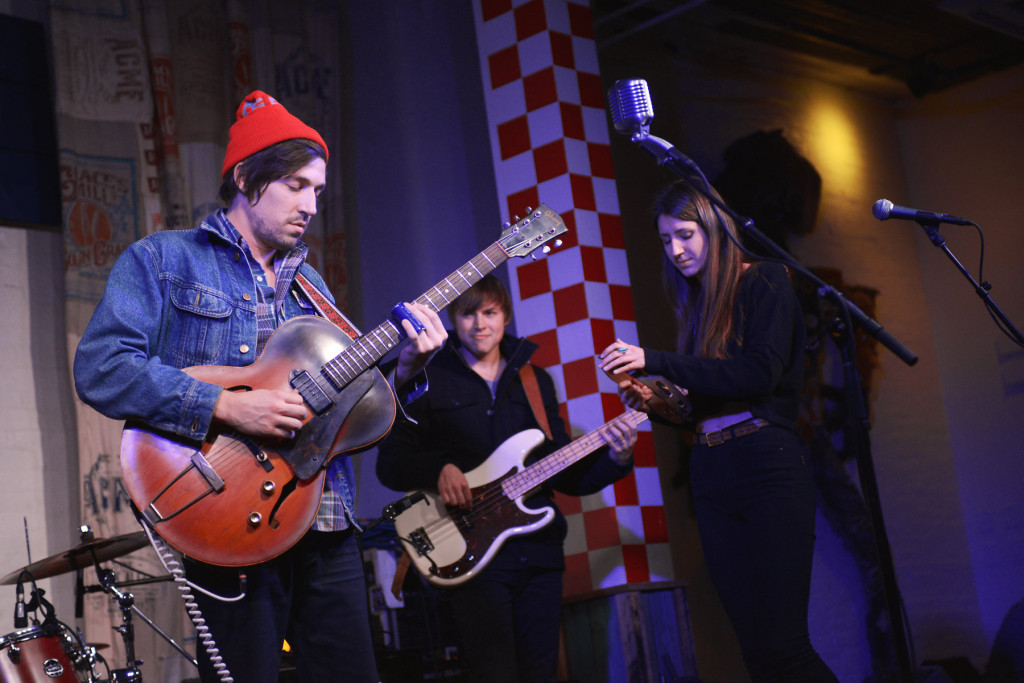 Shane Piasecki. Photo by: Mary Beth Blankenship.
He and his band played very tight, and it was obvious that they were very comfortable with one another. Later I found out almost every one of them has other projects they are working on, this is Nashville of course, but you would never know from the show that they were anything but one band. He powered through his Bob Dylan meets Ezra Koenig (of Vampire Weekend fame) inspired catalogue, his chilled out finger slide laced guitar paving the way through out. He closed with a Junior Wells classic "Good Morning Little Schoolgirl," that they jammed out for solid ten minutes, with keyboard playing inspired by The Doors filling in some breaks. Also an Ohio native, I talked to Shane after his set about music, and of course the National Campion Ohio State Buckeyes, of which we are both big fans. He'd even coaxed a few "O-H … I-O" cheers from the crowd in-between songs, much to my personal delight, if no one else's.

Blackfoot Gypsies. Photo by Mary Beth Blankenship.
After a trip to Acme's second floor lounge, for a better beer selection, I came back down for one of my favorite local bands and the headliners of the showcase; Blackfoot Gypsies. Their fans had begun to filter in during Shane's set and they weren't hard to spot, some serious nomad inspired fashion 'looks' going on, for sure. Leopard patterned ankle length down coats. Janis Joplin scarfs and head wraps. Brown leather, tasseled raw-hide jackets, and some feathered Neil Young hats. The band perpetuated the feeling that we'd flashback to sixties, wearing some colorful and distinct get-ups themselves.
However, when it comes to their music there is no pretense. A runaway, southern fried, rock 'n' roll freight train helmed by lead guitarist/vocalist Matthew Paige, a tall, skinny drink of water with charisma to spare. He was like a mad man on stage, kicking out his long slender legs during solos, going down to his knees to squeeze out heady tones, and in-between songs challenging anyone who 'wasn't having a good time' to come up on stage and fight him. The harmonica player, Ollie Dogg, wailed on his harp, but never over-powered the rest of the band, which a miced harmonica can do sometimes; always complimenting, never competing. Almost their entire set had a Stones honky-tonk era vibe that was magnificent, and true to that form they did a cover of "Happy" that was so rocking, Paige popped a string and had to switch guitars for the next number.
"I want to be famous," they sang later on an original track. "For being famous, for being famous, for nothing at all." The cliche hook buried in a bad ass rock 'n' roll song was perfect, and the tongue-in-cheek jab at celebrity culture in America today was PERFECT. Later they played the crowd favorite "Wasting Time," and then jammed out the last number till the very end of their allotted time, much to everyone's delight.
After the set, my editor and I chopped it up with Mr. Paige briefly over some drinks. We talked SxSW, Bonnaroo (who recently released their line-up)  and music in general. He told us about the BFG new album Handle It, which is ready to be released soon.
"Yeah man, it's like if your pipes freeze, and burst … Handle it," he explained, in reference to the title, and his personal life no doubt. "You have a shitty landlord situation? You're broke? Handle it."
Indeed, and if the Blackfoot Gypsies keep on the grind as they have been, and continue playing raucous live shows like they did at Acme, handling it should become a lot easier for one of the best local bands around. See for yourself next time they are slated to tear it up, check back with No Country for further updates, and when life shits in your lunch box … well, you know, just handle it.