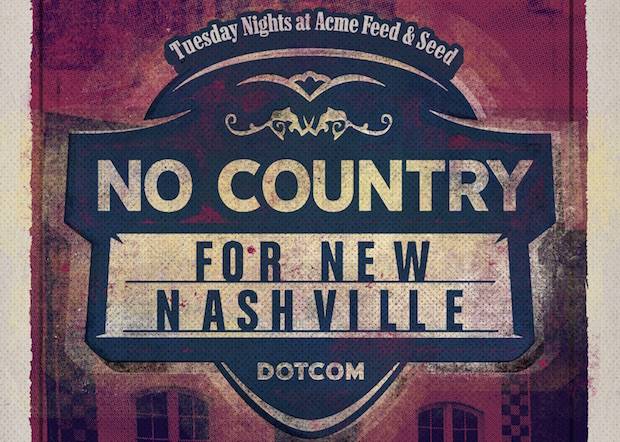 Attention all show hounds, No Country Presents' weekly showcase at Acme Feed & Seed continues to roll on all summer long! This Tuesday, July 21 will feature indie folkster Jake McMullen, alt-rockers Pilot Rouge, and indie rockers Future Thieves. As we do every week, we're bringing you all this music for FREE starting around 7:30 p.m. Get there early for some Southern cookin', and to cash in on a full night of live music. For more info on the bands, please read on, and we look forward to seeing you all again on Tuesday. 
JAKE McMULLEN
A young buck, who moved to Music City from Orange County, CA just under a year ago, Jake McMullen has wasted little time getting into the groove of things here, and he was even nice enough to let us debut the title track from his upcoming EP, Always, back in November (read this post), and he recently dropped another single, "If I Go," that you should check out below. Seasoned beyond his years, McMullen is someone you should get to know, because the praise keeps piling on for this talented youngster.
PILOT ROUGE
Another local band we've been keeping tabs on (read this post), Pilot Rouge is a five member collective helmed by the multi-talented Kevin Terry (guitar/vocals/strings), who also plays a mean cello when he isn't in rock mode. All transplants, from various parts of the South and Northeast, the band has been going strong since 2013, and is currently riding high off the release of their new EP Legends earlier this year. Look for them to take your ear drums by storm when they pump out the jams at Acme Feed & Seed.
FUTURE THIEVES
A local rock 'n' roll band who've been blowing up in a big way lately, Future Thieves seem to be snagging all the right bills. They played a Bonnaroo Club Stage set (read this post), and were just given the go-ahead for a Live On The Green 2015 warm-up spot (and this post), so it's safe to say they're kind of a big deal. Their debut EP was pure awesomeness, and we are frothing at the mouth for their highly anticipated full-length (due out later this summer), but thankfully we all only have to wait a few more days to seem them put it down live.
Jake McMullen, Pilot Rouge, and Future Thieves will perform Tuesday, July 21 at Acme Feed & Seed. The show is 21+, music begins around 7:30 p.m., and, per usual, it's totally FREE! Downtown PARKING can sometimes be an issue. However, if you're willing to walk a few blocks, street parking is typically easy to find on the numbered avenues south of Broadway or along Korean Veterans Blvd, and metered spaces are often free after 6 p.m.