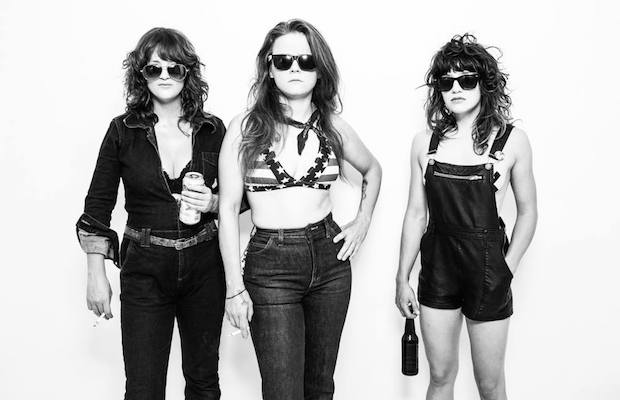 Thelma and the Sleaze and Daddy Issues appropriately play the Highway Runaway's Brooklyn to San Francisco party with Selector Mama Hot Dog (a.k.a. DJ Bobbi Rich) this afternoon to evening (July 10) from 3 p.m. to darkness at The Crying Wolf for FREE. This biker chick riot is hosted by Harley Davidson and features five of the babe riders from The Women's Moto [Photo] Exhibit in Portland, OR. You can follow their motorcycling journey here. Start the party with peaches, grilled peaches from The Peach Truck that is, and burgers, BBQ, and dogs served hot. You'll need the sustenance to rock out to two of the most hardcore all-girl groups in Nashville.
THELMA AND THE SLEAZE
Thelma and the Sleaze's lead singer LG is full of sexuality, a mix of Janis Joplin, Eartha Kitt, Tina Turner, and a rebirth of many soulful, rock women before her. Hell, she even resembles Janis Joplin in the slightest, especially her could-care-less attitude that includes hair-filled underarms. Their band name closely sounds like Thelma and Louise for a reason. Thelma and the Sleaze are ready to give a royal eff you to this patriarchal society and hit the ground running with their spiky, pounding music. With song names like "Motortits," "Cum," and "Bangerwagon," you have to see these girls, if not just for the curiosity/shock factor. I found through more research that the band has a church van named Snow Leopard that they took on their last tour, and their likes include backyard wrestling. You in yet? See the powerful Thelma and the Sleaze turn it up several notches Friday with that dirty, old-fashioned rock and roll you've been missing.
DADDY ISSUES
When I think of Daddy Issues' sad girl grunge, I think of the crazed wife in Gone Girl. Hear me out. The character makes this perfect point about how she pretended to be the "cool girl," the one every guy wants. The girl who is down for anything, one of the guys and a supermodel all at the same time. She attempted to be perfection while he screwed a minor and put baby in a corner, and then she lost her crap. The difference between her "Cool Girl" persona, though, and Daddy Issues is that these girls aren't even trying to be perfect or the cool girls. They just are already. They're unapologetically DGAF. They. Don't. Give. A. Fuck. And, it's glorious. At times, their vocals are lazing around, while at other times, their sound is energetic, kick-ass girl rock. These girls have everything you want out of a punch-packing, bitch-centric group in their lyrics: feminism, lesbianism, sexual liberation/accepted promiscuity, and a general rejection of accepted norms for "ladies." "Creepy Girl" is a personal favorite song of mine off their cassette series, released June 30th, where the lead sings that she wants to have kids with her crush and name them Nancy and Sid. If this sole fact does not bring you to the show, you don't deserve their Daria-esque attitude or simplistic, lyrical aptitude. Be DGAF with Daddy Issues and Thelma & The Sleaze at The Crying Wolf today!
Thelma and the Sleaze, Daddy Issues, and Selector Mama Hot Dog (a.k.a. DJ Bobbi Rich) perform at The Crying Wolf today, July 10 from 3 p.m. to dark with motorcycle babes in attendance. Crying Wolf is a 21+ venue, and it is a FREE show.