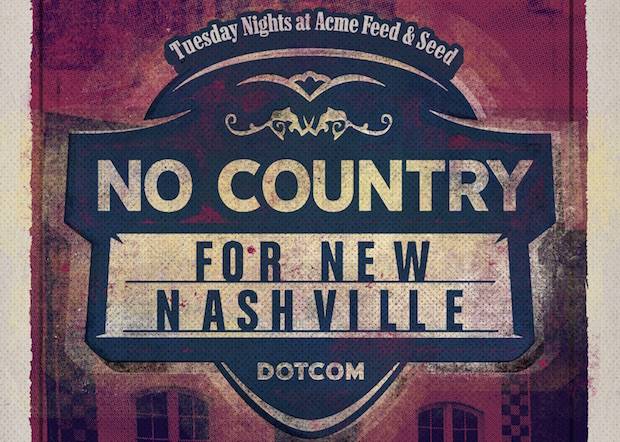 After our unofficial Bonnaroo send off roof-top party last Tuesday, No Country Presents' weekly showcase at Acme Feed & Seed continues to roll on. This Tuesday, June 16th will feature Americana duo The Saint Johns, bluesy noir rockers The Blue Velvets, and one-man-blues-band Domenic Fusca. As we do every week, we're bringing you all this music for FREE starting around  7 p.m. Get there early to grab a bite, and cash in on a full night of live music. For more info on the bands, please read on, and we look forward to seeing you all again on Tuesday! 
THE SAINT JOHNS
Local (via Florida) Americana duo, The Saint Johns made some serious waves with heir debut EP Open Water. After lengthy touring in support, including playing Bonnaroo 2014, and snagging a spot on The Late Show with David Letterman, Louis Johnson & Jordan Meredith are back in town and ready to show you what they've been working on since they've been away. We've been hip to the pair for a while, but it took us until now to nab them up for our Acme showcase, so be sure to be there when they take the stage and show out.   
THE BLUE VELVETS
After an impressive performance at the East Side Crawfish Boil, we knew we that we had to get them into our Acme showcase. The story behind The Blue Velvets is just as interesting as their dark, bluesy sound. The core of the band, Lance Whalen and Colette Cassette, couldn't be more opposite on paper. Whalen was born and raised in Kentucky, in a fairly traditional Southern manner. He moved to Nashville over a decade ago and has become a bit of a staple to the local scene. Cassette hails from Canada, where she lived a nomadic life, staying in a camper, and moving from town to town. Following her wandering ways, she has called many places home, from Brooklyn to Austin, and tons of places in-between, including Nashville (for now). The one thing the two do have in common is a love of creating music, and we think you'll agree it's damn good!
DOMENIC FUSCA
A true to the heart, grit under the fingernails, blues man who recently rolled into Music City via New Orleans, Domenic Fusca is the real fucking deal when it comes to slide resonator guitar playing. He's already built a bit of a name for himself within the local scene because of his impressive skills, and now you can say you saw him at Acme before you see him on bills all around town.  
The Saint Johns, The Blue Velvets  and Domenic Fusca will perform Tuesday, June 16 at Acme Feed & Seed. The show is 21+, music begins around 7:30 p.m., and, per usual, it's totally FREE! Downtown PARKING can sometimes be an issue. However, if you're willing to walk a few blocks, street parking is typically easy to find on the numbered avenues south of Broadway or along Korean Veterans Blvd, and metered spaces are often free after 6 p.m.