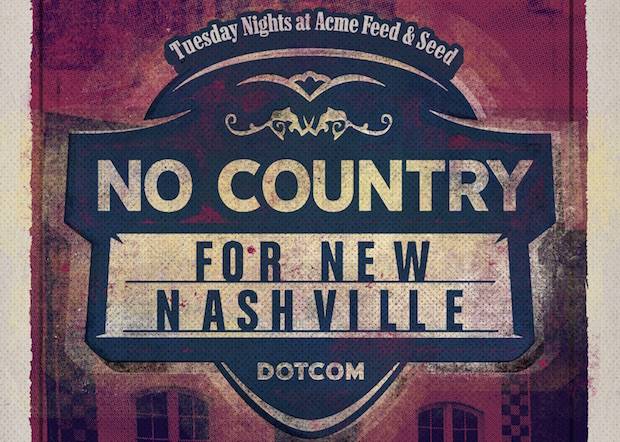 By now we hope you've heard, our live events production wing, No Country Presents, has taken up residence at Lower Broadway's hippest new restaurant, lounge, retail, and event space, Acme Feed & Seed, where we've been bringing you a weekly, FREE, Tuesday night showcase, featuring some of our favorite emerging local and national talent. The curated showcase runs from 8 to 11 p.m. each week, and, so far, has featured everything from folk to funk to rock to indie. For our special Bonnaroo Week Edition, on Tuesday, June 9, we're bringing you local bill of all three Road to Bonnaroo winners: Sol Cat, Future Unlimited, and Chrome Pony, with DJ sets from local faves Coach and Rate in between bands and late night! The best part? For the first time ever, we're moving to the fourth floor for a rooftop bash (instead of our usual first floor stage). Keep reading to find out all about the lineup, and add this to your calendar now, because there's no better way to get ready to 'Roo.
SOL CAT
We've been writing about Sol Cat for about as long as they've been a band, and, over the past few years, have watched their long-standing psychedelic and groove-rock tendencies morph into a tighter, broader style which includes poppier arrangements and more electronics. They're one of the best live bands around, so it's no surprise that they took home at win at this season's first Road to Bonnaroo! The group just dropped a new EP, Uno, and we're thrilled to have some fresh jams to get us through the summer!
FUTURE UNLIMITED
We've told you about electronic-laced, moody, post-punk outfit Future Unlimited on countless occasions, and still maintain that they're one of the most criminally underrated bands in town, both live and in their impressive catalogue of diverse compositions. Their RTB win was long overdue, and we couldn't be more thrilled to see such a talented, well-deserving act earn a prestigious spot at our favorite fest! If you haven't given this band a shot yet, there's never been a better time to get acquainted.
CHROME PONY
A longtime site favorite, locals Chrome Pony made their Acme debut a few months back with The Lees of Memory before their RTB Win, and we're stoked for their return. Founded by Indiana-bred brothers Tyler and Kyle Davis, Chrome Pony pull influences from psychedelic, punk, garage, and good old fashioned rock and roll, culminating in a fantastic, fuzzy, and fiercely original voice of their own. The group's latest EP, You Are the Pisces, dropped last year, and they have plans to release at least one new record this year.
Sol Cat, Future Unlimited, and Chrome Pony will perform Tuesday, June 9, at Acme Feed & Seed. The show is 21+, music begins at 8 p.m., and, per usual, it's totally FREE. Downtown PARKING can sometimes be an issue. However, if you're willing to walk a few blocks, street parking is typically easy to find on the numbered avenues south of Broadway, or along Korean Veterans Blvd. Metered spaces are often free after 6 p.m.