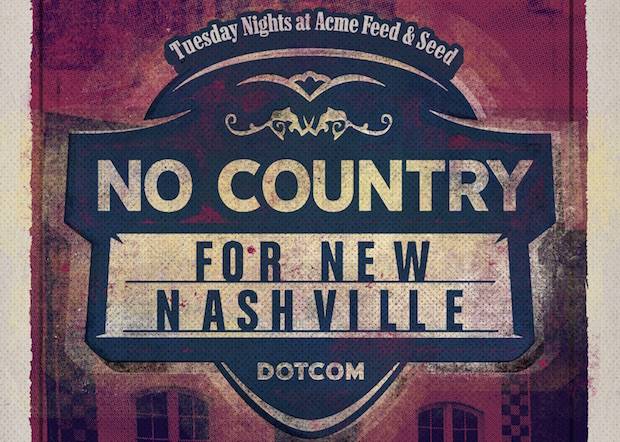 By now we hope you've heard, our live events production wing, No Country Presents, has taken up residence at Lower Broadway's hippest new restaurant, lounge, retail, and event space, Acme Feed & Seed, where we've been bringing you a weekly, FREE, Tuesday night showcase, featuring some of our favorite emerging local and national talent. The curated showcase runs from 7 to 10 p.m. each week, and, so far, has featured everything from folk to funk to rock to indie. For our next installment, on Tuesday, May 26, we're bringing you local bill of alt/indie rocker Lauren Strange & The Pretty Killers, buzzworthy new indie pop singer CAPPA, and ambient alt pop artist Trenton. Keep reading to find out all about them, and cancel any other plans you might have Tuesday night, because you're coming to hang with us. Got it?
LAUREN STRANGE & THE PRETTY KILLERS
A longtime site favorite (and even a former contributor to boot), local singer-songwriter Lauren Strange and her backing band The Pretty Killers have been wowing audiences around Nashville and beyond for the last several years. A gifted vocalist and eclectic songwriter, Lauren made waves with her debut, The Strange EP, before taking a decidedly more alt rock/grunge turn with last year's excellent Say Yes. Marked by versatility and a broad range of influences (Strange names everyone from Ryan Adams to Nirvana among her faves, and you can hear that prominently in her multifaceted style), Lauren is one of Nashville's most promising up and coming performers, and we couldn't be more excited to welcome an old friend to our weekly showcase!
CAPPA
We've been raving about local (by way of Philly) indie pop singer on the rise CAPPA for a few months now, and, without a doubt, she's fast become one of our favorite Nashville acts, undoubtedly on a path to widespread critical and commercial acclaim. Though she previously performed more pop rock leaning material under her full name Carla Cappa, the young singer underwent a bit of a musical transformation earlier this year, exploding back onto the scene with her new moniker and infectious single, "Hush." Since then, she's dropped a few more tracks, all unbelievable, leading up the release of her debut EP the same day as her Acme set. A fresh face among the welcome recent trend of electro and r&b infused moody indie pop singers (see Banks, Grimes, Chelsea Lankes, SZA), we suggest you catch CAPPA in town you can, because her rise to stardom is sure to be meteoric.
TRENTON
Ambitiously taking cues from acts like Radiohead and Sunny Day Real Estate, Florida transplant Tenton is the live moniker of gifted performer and songwriter Ryan Courtney. With three strong releases to his name, and a fourth on the way (helmed by Grammy award wining producer Joshua D Niles), Trenton's moody, ambient, alt pop style lends itself perfectly to crossover appeal, and has already found its way into prominent television placement. Trenton might be one of Nashville's best kept secrets now, but likely won't remain that way for long; show up early and show him some support!
Lauren Strange & The Pretty Killers, CAPPA, and Trenton will perform Tuesday, May 26, at Acme Feed & Seed. The show is 21+, music begins at 7 p.m., and, per usual, it's totally FREE. Downtown PARKING can sometimes be an issue. However, if you're willing to walk a few blocks, street parking is typically easy to find on the numbered avenues south of Broadway, or along Korean Veterans Blvd. Metered spaces are often free after 6 p.m.