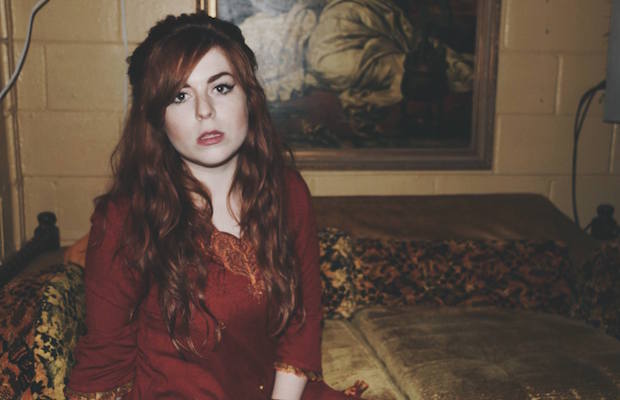 If you haven't been to the Basement's new location on the east side, the Basement East over on Woodland is putting on another great night of music tonight featuring a group of artists all influenced by the roots revival, alt country, and generally music of the American south. Site favorite rock and soul singer Kim Logan will perform with alternative country outlaw Shane Tutmarc, rock-Americana singer-songwriter Tanya Montana Coe (who also owns the East Nashville-based clothing store Goodbuy Girls), and roots revivalist Cody Brooks. East side dwellers are super lucky that Grimey decided to open a location on this side of town featuring his well-curated shows, and giving Five Points another live music venue. For fans of alt country, Americana, or roots music this is the perfect night to go check the new place out.
KIM LOGAN
Kim Logan is a local songstress the site has long loved. Her brand of rock and roll is steeped in the Seventies and in the South, making her like a swampy, redheaded Stevie Nicks. She's currently working on her second record here in Nashville with Jack White's engineering wizard Vance Powell. It will reflect more of her love of every kind of Southern music, from the soul of Muscle Shoals to the Delta blues to classic country, and we can't wait.
SHANE TUTMARC
Shane Tutmarc is a modern roots artist and producer formerly of the band Dolour. Once calling Seattle home, Tutmarc is now based here in Nashville and has been getting a lot of attention from the independent, alternative country scene. Wanda Jackson and Shooter Jennings have both given him shout outs, and I'd say you don't need much higher recommendations than those. The video for the song below was shot by our very own photographer, Mick Leonardi.
TANYA MONTANA COE
Nashville native Tanya Montana Coe is an alternative Americana singer-songwriter who you might recognize from her non-musical venture, as she also owns the clothing store Goodbuy Girls located in the Idea Hatchery. Through Goodbuy Girls, Coe has dressed many of the female musicians around town, including Logan, Margo Price, and Kelsey Waldon among others. She's the daughter of country outlaw David Allen Coe, and released her first solo record, Silver Bullet, late last year, which was produced by Shane Tutmarc here in Nashville.
CODY BROOKS
Cody Brooks is a local singer-songwriter who plays roots music on a parlor guitar. A Nashville native who traveled around the country before getting lured back to Music City, Brooks cut his teeth in the blues bars downtown and found his creative collaborator Ken Coomer by randomly asking the audience if someone wanted to hop behind the drum kit one night. The music on Brooks' debut EP Handshake combines old-fashioned blues with a punk attitude.
Kim Logan, Shane Tutmarc, Tanya Montana Coe, and Cody Brooks will perform Thursday, May 14 at The Basement East. The show is 21+, begins at at 9 p.m., and it'll cost you $5 at the door.