Wildfront, Morgan Bosman, Femke
Acme Feed and Seed; Nashville, TN
April 28, 2015
Review by Jack Smith. Photos by Shawn Jackson of Sundel Perry Photography
As you may already know, we host a showcase over at Acme Feed & Seed each and every Tuesday, with the aim of bringing you free tunes from some of the up-and-comers around. For our latest installment on April 28, we featured local dream rockers Wildfront as our headliner, along with supporting acts Morgan Bosman and Femke. All three bands killed it, and we've got details on the event after the jump, but we wanted to go ahead and remind about next week's special Cinco de Mayo showcase. It starts at 7 p.m., is free and will feature Magnolia Sons and Major and the Monbacks. Click on through to read about last week's awesome performance.
From the very beginning of Femke's set, the house was packed and buzzing with excitement. If you've seen Femke before, maybe during her month long residency over at Acme, this probably isn't too surprising. After all, this talented artist has managed to strike a chord in audiences all across the world with her unique balance between musical intricacy and catchy pop tunes. What's most striking about this band, however, is the diverse instrumentation. Femke herself is classically trained on accordion, but also sings, plays guitar, and plays piano. Her backing band, meanwhile, alternate between guitars, synthesizers and plenty of different percussive interments. The latter of these, the percussion, is particularly important to Femke's music. Nearly all of her songs feature a drum kit and two auxiliary drummers, heavily emphasizing the music's rhythmic content. This lends a bouncy, upbeat feel to their tunes, making it virtually impossible for audience members not to lock into their groove. While this show was the last in Femke's Acme residency, her and her band live in Nashville and regularly play around Music City, so you can definitely expect to see more from this promising act in the future.
Femke. Photo by Sundel Perry.
The evening's second act was soulful songwriter Morgan Bosman, accompanied by her extensive backing band. If you haven't heard any of the St. Louis based outfit's tunes yet, that's an issue which ought to be immediately rectified. The group plays in the same soul-revival/rock sound pioneered by the likes the Alabama Shakes, but places a greater emphasis on jazz influences. This results in a unique sound that's very difficult not to like. If you're interested, you can check out Bosman's new self-titled EP, which she released during her show at Acme.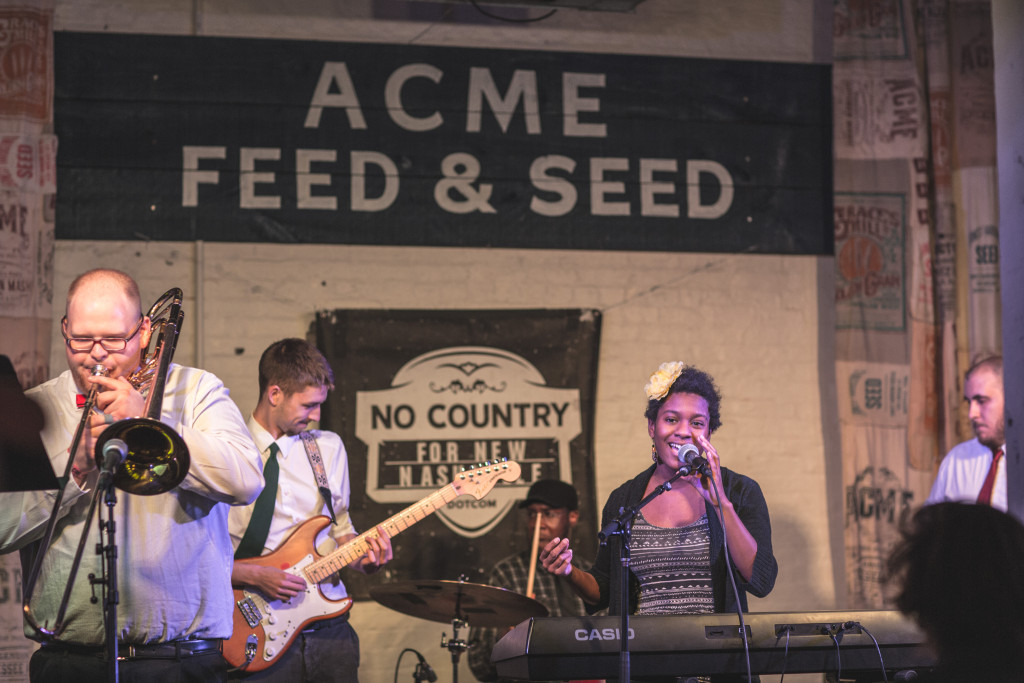 Morgan Bosman. Photo by Sundel Perry.
Probably the most impressive aspect of this act is the level of communication between band members. At times, there are more than 11 people on stage, which is no small feat on the downstairs stage at Acme. Despite the large band size, the group played very tightly, a testament to their talent and ability. If their performance last night was any indication of their future, Morgan Bosman is a young act you need to keep an eye on.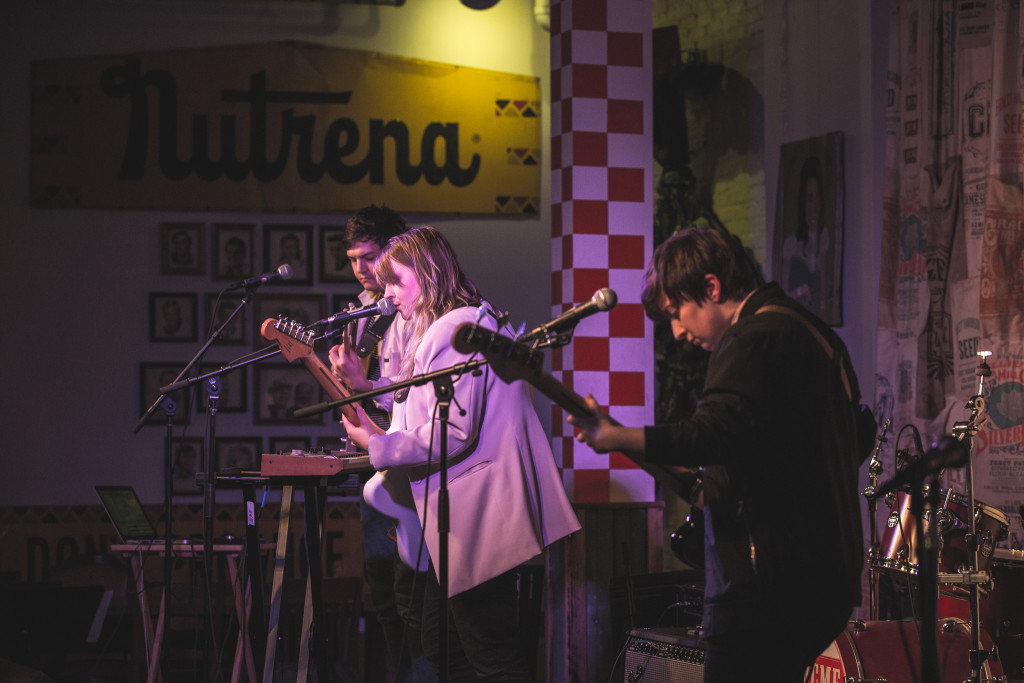 Wildfront. Photo by Sundel Perry.
The final act of the evening was Wildfront, a local dream pop band. The band draw equally from indie pop and ethereal electronic influences to create an accessible yet completely unique electro-rock sound. Their tunes have that same shimmery, open space quality that acts like Joy Division and Echo & the Bunnymen made famous several decades ago. However, Wildfront aren't afraid to utilize a modern, sophisticated approach to these sounds, which helps them to avoid sounding dated. The result of all these influences is an emotionally impactful, sincere sound that immediately draws in listeners. If this sounds interesting to you (and frankly, it should; these guys rock), you'll be delighted to hear the band dropped a six track album earlier this year.
Be sure to check out some awesome photos of the event in the gallery below, which was put together by Sundel Perry Photography. Hope to see you at next week's showcase!