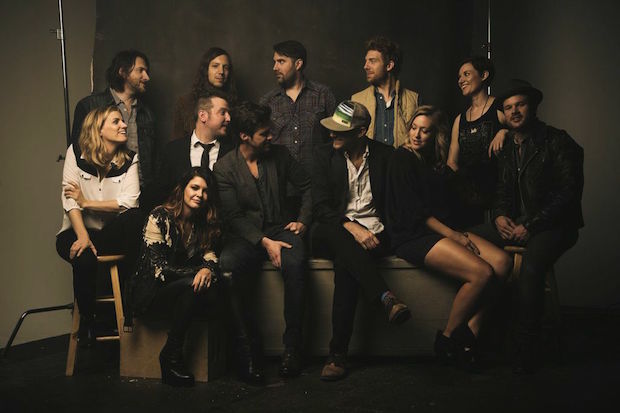 We've raved about Ten Out of Tenn in the past, and with their big 10th anniversary show coming up next week at The Ryman Auditorium, we thought it would be a good idea to catch up with the artists. Each musician involved in Ten Out of Tenn has an incredibly busy career outside of the group, so we were beyond that they were able to find some time to chat. We can't wait to see the local collective perform on April 24, but, until then, we can get a peek into their thoughts on their decade-long run. Keep reading to find out what the Ten Out of Tenn members think about the past, present, and future of the collaborative ensemble.

It is so exciting to see something as unique as Ten Out of Tenn reach its tenth anniversary. What do you think has contributed to its success?
Kristen Dabbs: There is something special about seeing artists work together and celebrate each other's talents. I think it's encouraged each artist in TOT to step up their game in a sense and it's made it a great way for fans to discover new artists.
Amy Stroup: It's crazy to see the energy and musical possibilities created when a group of friends join up together, instead of as competitors and decided to try and make great music. I think it pulls fans in because it's so counter to what normally happens in music. Also, I can genuinely say, it's a blast… and I think the audience feels that and gets to be apart of it at the live TOT shows. I think it will only continue to grow.
Andy Davis: I think one "secret to making it" in the music business is just to stick around long enough. Lots of people quit after one or two tries if they don't find immediate success. Thankfully all of us are still around and still making records, so in a way it's the celebration of the fact that we're all still feeling inspired and all still getting to do what we love for a living.
Kyle Andrews: First off it's just a really fun concept. It's fun for solo artists involved to band together and play supporting roles on the other artist's songs. The success of that fun idea has to be attributed to Kristen and Trent for having a good ear for what artists could go well together. It takes a lot of vision and enthusiasm to keep something like this going.
From an artistic standpoint, how has this group helped you during the years you have been a part of it?
Amy Stroup: TOT has connected me to some of my favorite music collaborators I've worked with. For example, I discovered Andrew Belle and we both have recorded on each other's albums and both Katie Herzig and Matthew Perryman Jones and I have toured outside of TOT. I think all those opportunities wouldn't have happened necessarily outside of TOT. From a musician's standpoint, the group is made up of not only great artists, but true musicians. It's made me want to keep growing in my craft.
Jeremy Lister: I admire everyone so much in this crew. They inspire me to be a better writer, artist and a better person.
Kyle Andrews: As a singer and a musician it challenged me to be better. You are playing with this group of songwriters that all have a variety of skills as musicians and performers. All at once you want to keep up with them, fit in and hopefully bring something unique to the show.
I'm sure organizing the schedules of multiple artists in order to create an anniversary show like the one coming up at the Ryman in April can be a struggle. What other challenges have you encountered being a part of such a unique group as Ten Out of Tenn?
Kristen Dabbs: We started Ten Out of Tenn out of a desire to simply share the amazing underground music scene in Nashville with the world. There was never a business plan, or a model for us to look at of someone else who has done anything like this, or even a list of our future goals. If we had thought through every detail to make a tour like this happen, I don't think we would have ever gone through with it. We probably would have thrown our hands in the air and said, "this will never work." But instead, we took one step at a time, learned what we needed to do along the way and let the talent from the stage speak for itself.
Ten Out of Tenn is constantly changing and growing with the addition of new artists. Have the visions or goals of the group changed at all in the last ten years?
Kristen Dabbs: Yes, when we started we never thought we would still be playing shows 10 years later. It definitely felt like there was a core group in the beginning, but with all of their solo careers taking off there was no way to always plan around each individual schedule. With the growing Nashville music scene, we were constantly amazed by the new artists that we were meeting. I remember hearing Madi Diaz play and immediately thought it's time to do another Ten Out of Tenn. We've always looked around at the artists in town to see who was starting to build a buzz, make a name for themselves, putting together their own tours, getting songs on radio, TV, etc. We've championed artists that have worked hard to do it on their own.
Amy Stroup: I think the vision of TOT has stayed the same: create great music with friends and cheer each other on especially as tour support for each other. There is always room for new great music, we just all want to be a part of it.
Andy Davis: I don't think any visions or goals have changed — I think the original intent was to show people what was going on in Nashville outside the country and CCM world. There could've been many other artist friends included in that group—the TOT cast during the documentary tour may have been the most visible, but I think the point was for TOT to be an umbrella that showcased great music that was happening in Nashville and the new artists that came along on the future tours were examples of those.
Kyle Andrews: It seems the heart of the group and spirit of the show remains strong. At this point the variety of artists to come through the group speaks for itself. I'd also like to use this opportunity to say KS Rhoads has a nice yellow button up shirt of mine from tour six years ago. I'd love it back KS.
What else would you like our readers to know?
Kristen Dabbs: We've spent 10 years bringing the music of Nashville to people all over America to let them know how incredible our city is and how the perception of Nashville isn't always accurate. We decided to do one big Anniversary show in Nashville at the Ryman (April 24) in order to bring our fans from all over so they can see it for themselves.
More from Ten Out of Tenn | Site | Facebook | Twitter | Spotify