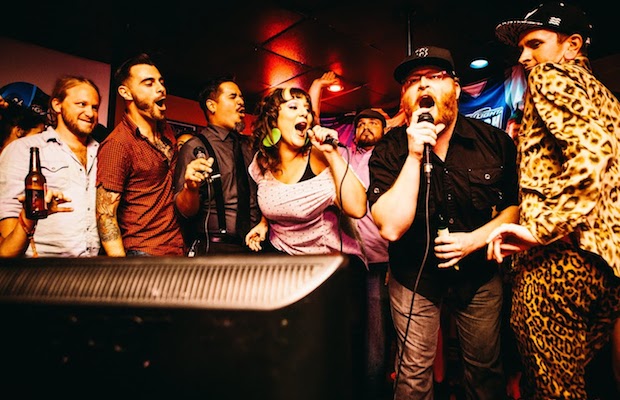 By now we hope you've heard, our live events production wing, No Country Presents, has taken up residence at Lower Broadway's hippest new restaurant, lounge, retail, and events space, Acme Feed & Seed, where we've been bringing you a weekly, FREE, Tuesday night showcase, featuring some of our favorite emerging local and national talent- everything from folk to funk to rock to indie. This week's curated showcase, a special St. Patrick's Day edition, on Tuesday, March 17 will run from 7 p.m. to midnight, keeping the jams going extra late for your holiday enjoyment. Set to perform an extended set are local soul/funk outfit and longtime site favorite Alanna Royale, and they'll be joined by similar-minded Baltimore group Bosley and local soul singer Laura Reed. Keep reading to find out all about them, and cancel any other plans you might have Tuesday night, because you're spending St. Patrick's Day with us. Got it?
ALANNA ROYALE
We've written about breakout local act Alanna Royale more times than we can count at this point (since literally their first show), and for good reason- they're one of the best bands to emerge from Music City in recent years. For a more in-depth and personal recounting of their backstory, we suggest you listen to their interview last year on our No Country podcast, but, for you newbies, here's the short version. After moving from Boston in the summer of 2012, frontwoman Alanna Quinn-Broadus and guitarist Jared Colby quickly and organically formed what would become a soulful horn-infused funk/r&b outfit, exploding onto the scene mere months later with no recorded music but one hell of a turbocharged live show. They quickly became the buzziest new band in Nashville, and went on to release an EP in early 2013, shortly before nabbing a spot at Bonnaroo and proceeding to tour. Now road worn and well-respected as one of Nashville's most consistent and killer live acts, Alanna dropped their debut LP, Achilles, last fall, and it's simply dripping with soul and passion. Watch their music video for "Big Time Me" below, which they filmed at last fall's record release show, for a taste of how epic your St. Patty's day could be.
BOSLEY
Like Alanna Royale, Baltimore's Bosely get their name from their vocalist- Bosley Brown. And, also like Alanna, the group have a strong affinity for old soul music, r&b, hip hop, swing, and a whole lot of brass. Since the 2012 release of their debut album, Honey Pig, the band have been garnering buzz, and they're sure to have you drunkenly dancing in no time while you pound another pint of Guinness.
LAURA REED
What better than another soul singer to get this eclectic, spirited show started? Hailing from South Africa and now residing in Nashville and North Carolina, Laura Reed most recently released The Awakening, an emotional, thought-provoking album produced by Grammy winner Shannon Sanders. A powerful and eclectic singer with a compelling live show, Reed is sure to set the tone on an amazing high, so be sure to show up early to see her.
Alanna Royale, Bosley, and Laura Reed will perform Tuesday, March 17 at Acme Feed & Seed. The show is 21+, music begins at 7 p.m., and, per usual, it's totally FREE. Downtown PARKING can sometimes be an issue. However, if you're willing to walk a few blocks, street parking is typically easy to find on the numbered avenues south of Broadway, or along Korean Veterans Blvd. Metered spaces are often free after 6 p.m.