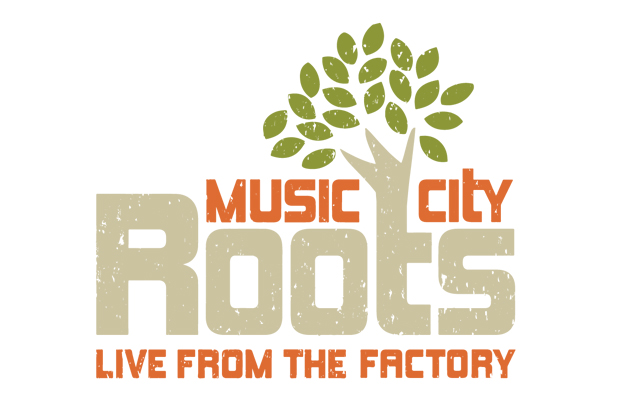 This week's Music City Roots Live from the Factory welcomes back Chuck Mead as well as first time performers Eliot Bronson, Greyhounds, and The Michaelis.  How about a free ride? For the same $10 you'd pay at the door, you get a ride and refreshments on the way! Depart from the 5 Spot in East Nashville at 5:30 pm or the Hippie Radio building on Music Row (parking deck at 49 Music Square W.) at 6:00.  The bus will roll home just after the Nashville Jam.  We are really excited about this show which begins sharply at 7PM (doors at 6PM).  Keep reading to hear more.
CHUCK MEAD AND HIS GRASSY KNOLL BOYS
Chuck Mead has appeared on the Music City Roots stage quite a few times…as a solo artist, with BR5-49 and, again this week, with His Grassy Knoll Boys.  He's even hosted the show a time or two.  His most recent release is Free State Serenade with His Grassy Knoll Boys, on Nashville-based Plowboy Records, featuring BR5-49's Don Herron and OCMS's Critter Fuqua among others.  Watch Chuck & His Grassy Knoll Boys perform "Knee Deep In The Wakarusa River" live at the Artist Co-Op in Nashville below.
ELIOT BRONSON
Atlanta-based songwriter Eliot Bronson recently released his self-titled album, produced by award-winning producer Dave Cobb (Sturgill Simpson, Jason Isbell, Nikki Lane), which was immediately met with critical praise. Bronson was recently named Best Songrwiter in Creative Loafing's "Best of Atlanta 2014" who said, "bluesy harmonies and a dark sense of humor create powerfully evocative folk songs".   Bronson previously had two critically acclaimed solo albums and, prior to his solo career, was a member of folk favorites The Brilliant Inventions.  Brosnan will also perform at the 6th annual 30A Songwriters Festival in South Walton, FL on January 16-18.  Check out this performance of "You Wouldn't Want Me If You Had Me" from a recent One On One session at City Winery New York.
GREYHOUNDS
Austin-based duo, the Greyhounds, are guitarist Andrew Trube and keyboardist Anthony Farrell.  They have been making music and touring for 15 years, refining and developing a sound Trube calls "Hall and Oates meet ZZ Top."  The band also has long ties to Memphis.  Their first album, Accumulator, was released in April 2014.  If their performance of Harry Nilsson's "Jump Into The Fire" at C-Boy's Heart and Soul in Austin is any indication, we are in for a great time.
MICHAELIS
Michaelis is a self-described hippie-cowgirl trio of sisters from Sugar Land, Texas.  The now Nashville based trio consists of Meagan (lead vocals), Mallory (rhythm guitar) and Madeline (lead guitar & mandolin).  They collaborated with Nashville producer Dave Brainard (Jerrod Niemann, Brandy Clark) on their self-titled debut album.   Michaelis stopped by MusicRow headquarters and performed their single "Shoot Straight.
Chuck Mead, Eliot Bronson, Greyhounds, and Michaelis will perform on Wednesday, January 14 at Music City Roots Live From the Factory.  The show is all ages, begins sharply at 7PM (doors at 6PM), and and tickets are available for $10 .