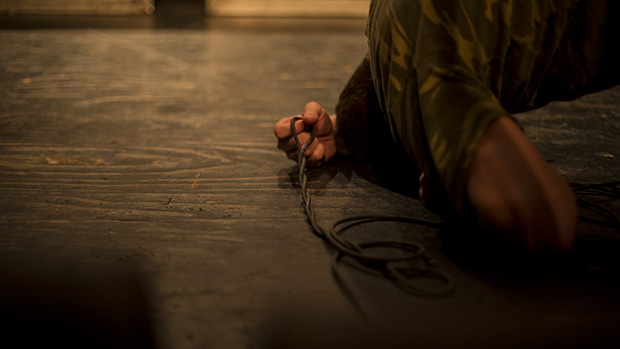 Sexx. Photo by Caroline Bowman.
Sexx w/ Look What I Did, The Dead Deads, & Indulgist
Exit/In, Nashville, TN
December 20, 2014
Review by Jacqui Sahagian.
Photos by Caroline Bowman.
Local indie label Palaver Records hosted a night of rowdy hard rock at Exit/In last Saturday featuring their biggest band the pop punks Sexx as well as metal heads Look What I Did, all-girl pop punk band The Dead Deads, and the post grunge group Indulgist. You might recognize the name Palaver from the weekly showcase the label puts on at east side dive FooBar on Thursday nights, but last weekend they crossed the river and took over a much bigger venue, to a rollicking success judging by the crowd.
Read the full review and check out some kick-ass photos from Caroline Bowman after the break.

Indulgist. Photo by Caroline Bowman.
Unfortunately I arrived too fashionably late to catch the post grunge group Indulgist (side note: since when is 9:20 p.m. too late to catch the opener of a rock show that starts at 9:00?), but there was already a decent crowd milling around the venue that early. The show was geared towards more pop-punk and metal type acts, perfect for college students who like music to party to. Thus the crowd was younger and had a different energy than the indie shows and country-leaning performers I typically cover. It was a smart decision for Palaver to feature these bands over on the west side near Vanderbilt than at a smaller, hipster-leaning venue in East Nashville and by the end of the night the place was packed.

The Dead Deads. Photo by Caroline Bowman.
The Dead Deads are an all-girl pop-punk act of undead "sisters" that have taken the last name Dead and perform with x's over their eyes. The group not only has a great, adorable schtick — something more important than the faceless, boring, white-boy indie bands I see week after week will ever acknowledge — but they also could play their instruments well and be charismatic. All of that looks way easier than it actually is. These girls have clearly put in the time and thought in multiple areas to make a unique and memorable band. The Dead Deads play heavy pop-punk that leans towards metal on occasion but doesn't take itself too seriously, with a silly song about legalizing weed and choruses that are easy to sing along to. I wouldn't be the least bit surprised to see them headlining Warped Tour or their t-shirt on sale at Hot Topic in a couple years.
Look What I Did. Photo by Caroline Bowman.
It was a bit hard to be impressed with Look What I Did after seeing the Dead Deads. The band plays genre-smearing metal, but the lead singer was a bit drunker than benefits a vocal performance and overall the group's music wasn't very cohesive. The singer was energetic but missing the mark both in terms of being on key and with cultivating a stage presence that's charismatic rather than confusing. When the band went into a more straight forward metal song the crowd responded particularly enthusiastically and people seemed pretty supportive throughout, so perhaps it was just me not being into that genre of music.
Sexx play party rock and roll influenced by pop-punk and surf music and they do a great job of making their audience have a good time. This was a much bigger crowd than the last time I'd seen them at the East Room and the group did well with being on such a big and well-known stage. They came prepared with some Christmas songs, which were particular crowd pleasers, though I have to say I was disappointed that "Santa Can't Die!" was about denial regarding St. Nick's existence and not about a murder attempt. Sexx seemed to have found a warmer crowd here than at a smaller hipster venue, where suggestively removing a hoodie and humping a microphone stand would be met with rolled eyes rather than laughter and the rock and roll hand gesture. The crowd certainly seemed like they had a great time, which was the sole purpose of the music that evening.