Olivia Jean. Photo by Mick Leonardi.
Olivia Jean
w/ Yumi & the System, Mystery Twins
The Stone Fox; Nashville, TN
December 5, 2014
Review by Jack Smith and Jacqui Sahagian. Photos by Mick Leonardi. 
On Friday, Third Man Records' newest solo artist Olivia Jean played her first real Nashville show outside Jack White's house, joined by locals Yumi and the System and Mystery Twins at The Stone Fox. Jean's set was mostly comprised of tracks from her debut solo album, Bathtub Love Killings, but was also heavy on reworked versions of songs by her former goth garage band The Black Belles. The place was packed to hear alternative rockabilly tales of heartbreak from the somewhat controversial new artist.
That said, Jean wasn't the only act in the spotlight. Both of the other acts played phenomenally, and the night was a rousing success. We were particularly enamored by the high level of communication between the two members of Mystery Twins, and with the general aesthetic and uncompromising attitude of Yumi and the System (whose new music video we recently exclusively premiered).
Click through for our full review, plus photos from Mick Leonardi.
One of the nicest parts of going to a show at The Stone Fox is the size of the venue. Sure, it may not be appealing to national touring acts, but, for local groups, it holds a sizable crowd and fills quickly. This attribute came into play during the set of the evening's first act, local duo Mystery Twins. Despite their early set time, the room felt packed by the time the group took the stage, and the crowd seemed ready to party. This suited Mystery Twins just fine, and the guitar and drum duo gladly obliged the crowd's demands. The most striking aspect of their performance was likely the high level of communication between the two players. Besides physically playing their instruments, synchronizing timing, and harmonizing vocals, Doug Lehmann and Stephanie Brush shared a number of glances and, clearly, were communicating on an emotional level. Perhaps it's simply because it was just the two of them, but Mystery Twins seemed to be a lot more in sync with each other than many other bands. This lent an organic, comfortable vibe to their tunes, which definitely brought their performance to the next level.
Mystery Twins. Photo by Mick Leonardi.
Musically, Mystery Twins plays straightforward rock, and they play it well. There's no mucking about with challenging scales or extended jam sections or unorthodox time signatures; the group instead prefer to use traditional garage rock tones and progressions. However, the clever songwriting seems to recontextualize these tones into something very unique and creative. This is definitely an act you'll want to keep an eye on, as we predict their popularity will only continue to grow.

Mystery Twins. Photo by Mick Leonardi.
Soon after Mystery Twins concluded their set, grungy five piece Yumi and the System took to the stage to set up their equipment. Before they even started playing, it was evident that the show would be spectacular, as the group's array of gear and visual effects took some time to set up. Soon enough, Yumi began their set. The crowd was dazzled by the projected visuals that covered the stage, which alternated between The Matrix-esque falling numbers and randomly flashing swatches of color. Originating from a projector across the room, these visuals were slightly pixelated, creating a grid-like effect that gave the band an otherworldly appearance.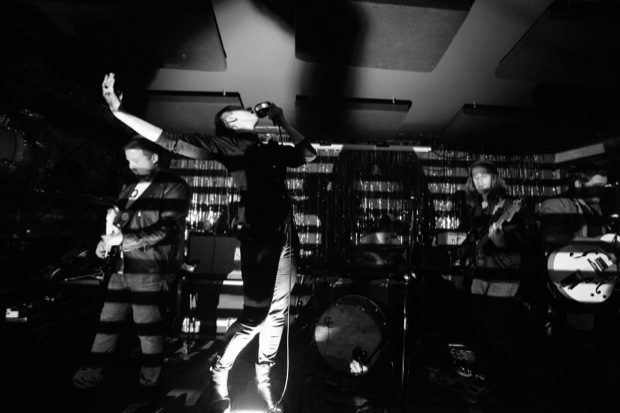 Yumi and the System. Photo by Mick Leonardi. 
Of course, production was only half the battle. Yumi and the System's heavily distorted and straightforward rock sound, propelled by their talented frontwoman, took the crowd by force. Though a punk feel is present in all of Yumi's songs, it's often balanced by electronic undertones. Most of all, however, the songs are honest. Both lyrically and melodically, the group try to keep things both surprising and simple, and don't permit themselves to become distracted with superfluous content. This commitment led to a very focused performance, which kept audiences engaged all the way through. [Jack Smith]

Yumi and the System. Photo by Mick Leonardi.
I've been a longtime fan of Olivia Jean, since back in her Black Belles days, when she wore black lipstick and a witch hat and wasn't nearly as confident or competent onstage. The all-girl goth-rock Belles were a Jack White-created schtick, no one ever denied that, but a fun one that I always found enjoyable. After all, isn't that exactly what the White Stripes were? Anyway, Jean was the one who wrote all the Belles' songs, and it was evident from the beginning she was the one who was going to "make it" musically.
After doing one record with that band, Jean played on a plethora of Third Man projects, including both of Jack White's solo albums and records by Karen Elson and Wanda Jackson, as well as more Blue Series seven-inches than I care to count. Jean can play pretty much every instrument that makes up a rock band, and does so on her first solo album Bathtub Love Killings, which came out last month. All that playing she's been doing from the Black Belles to now has created a more mature and capable musician, something that's most obvious when Jean sprinkles Belles songs into her set now. They're leaps and bounds better — more interesting and crackling with energy that was lost under insecurity when I saw the Belles in Michigan a little over three years ago.
Olivia Jean. Photo by Mick Leonardi.
Something that unfortunately should be mentioned when discussing Olivia Jean, is a weird part of the Third Man fan base that seems to harbor a resentment towards her rooted in a bizarre delusion that any fan has "inside information" as to an alleged affair between her and Jack White that resulted in her work at Third Man Records. This fiction has resulted in a torrent of misogynistic hatred and jealousy towards a female musician being given a record deal by a male record label owner. It's a tale as old as time, really, but given the importance White places on working with women in the creation of rock and roll music, a space where women are still highly underrepresented, one would think that fans of his wouldn't be so blatantly sexist. I guess I was just being idealistic. Moving on.
This was the third time I've seen Olivia Jean play since the album was released (once for an in-store at Grimey's, and again at the record release party on Devil's Night at Third Man), and she's gotten better with each gig. This show was technically her first "real" Nashville show outside Third Man, and kicked off her current tour. She wouldn't be playing guitar on a Jack White record if she couldn't play guitar, and Gretsch-shredding is where she seems to be at her most comfortable, given her extensive experience playing in other artists' backing bands. It's when Jean has to be the center stage entertainer that the nerves become apparent, which sometimes serves her and sometimes doesn't. She's admitted that she struggles with stage fright, and that performing is still a big challenge for her. Anyone who decided to come to hate-watch the show would be pissed if I didn't mention that she flubbed a lyric to "Merry Widow," and that the closer "Green Honey Creeper" ended a little rough.
Olivia Jean. Photo by Mick Leonardi.
Highlights were the slower, country-influenced tracks "Haunt Me" and "Proof," as well as the Black Belles songs. "Breathing Down My Neck" was spiced up with rumbling guitar and drums and was one of the songs where Jean's voice sounded the best, though her mic needed to be louder throughout the set. "Not Tonight" has been perked up with a sick organ and guitar riff. "Mistakes" and "Excuses" were nasty kiss-offs to evil former lovers that Jean pulled off with aplomb. Even these few times I've seen her, Olivia has played songs differently and mixed up her sets to keep things interesting and challenge herself, rather than just play the same songs the same way over and over, which would be more expected from a fledgling solo artist.
The crowd dug her performance, as the packed house cheered enthusiastically in a particularly supportive manner. At the Stone Fox on Friday, you would've thought all those gross haters didn't exist. [Jacqui Sahagian]