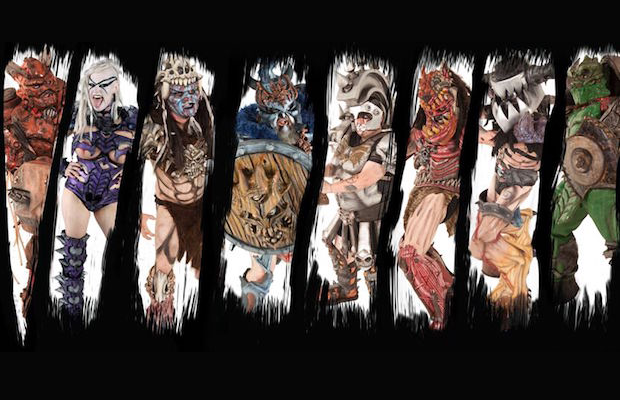 We told you awhile back that legendary costumed performance art/metal group GWAR had inducted a new frontwoman, Vulvatron, to help replace their former singer Oderus Urungus, who passed away abruptly earlier this year. To prove that they mean to carry on at full capacity, the band are out on a tour, playing slightly smaller rooms than usual, and their return to Music City has been slated for Dec. 2 at Exit/In with Corrosion of Conformity and American Sharks! We're excited about this one and you should be too, so grab your tickets here, and read on for more about the lineup, plus details on how you could win a pair of tickets!
GWAR
Even the tragic death of vocalist and founding member Dave Brockie (Oderus Urungus) earlier this year can't keep the performance art meets metal antics of thrash/hardcore group GWAR from carrying on. Formed in 1984 in Richmond, VA, GWAR rose to prominence in the early '90s, helped, in no small part, by cartoon Beavis & Butthead. The twice Grammy nominated band have earned the most attention for their space-based, mythological backstory, which carries over onto the stage with consumed performances, elaborate and horrific set pieces, and all manners of fluids being shot at the audience. A GWAR show is all about the experience, and, forewarning: you should come dressed in clothes you don't care about, because in a space as small as Exit/In, there will be nowhere to hide. GWAR aren't all theatrics though; underneath the costumes, they're a badass metal band, and there is no other group on earth (or space) like them. Come welcome a few new members, including female singer Vulvatron, and take in the GWAR experience in a much smaller room than they normally play.
CORROSION OF CONFORMITY
Long-running North Carolina metal act Corrosion of Conformity have been assaulting the world with their unique take on sludge metal, thrash, and stoner rock for over three decades now, albeit with a short hiatus in the late '00s. And, while long-running vocalist Pepper Keenan is no longer in the mix, bassist Mike Dean has proven to be an apt replacement on the now-trio's most recent two full-length releases. While the theatrics can't match GWAR, their straight up range of metal intensity will sure set the tone musically.
AMERICAN SHARKS
Hailing from Austin, Texas, American Sharks play a fuzzy, retro-leaning flavor of heavy metal and hard rock. Fans of acts like The Stooges, T. Rex, and The New York Dolls will certainly find something to latch onto here, and, with their turbocharged tunes, American Sharks couldn't be a better choice to kick off a killer night.

_
ENTER TO WIN TICKETS
Enter to win tickets by filling out the form below. Must be 18+ to attend, per the show's age requirements. After you have entered, there will be the option to share this contest via social media. For each person that you refer to the contest, you will receive an additional entry. If you experience any trouble with the contest widget, or have any questions, feel free to email us at [email protected].
Winner will be announced Wednesday, Nov. 26, at 5 p.m. CST, and will receive one pair of tickets. Good luck!
[contesthopper contest="46021″]
_
GWAR, Corrosion of Conformity, and American Sharks will perform Tuesday, Dec. 2 at Exit/In. The show is 18+ begins at at 8 p.m. (doors at 7 p.m.), and tickets are available to purchase for $20-23.