Mastodon
w/ Gojira, Kvelertak
Marathon Music Works; Nashville, TN
November 6, 2014

Review by Philip Obenschain (@pobenschain). Photos by Shayne Garcia.
Of the many, many genres of music we cover and the varied and talented acts we often post about, metal, is, perhaps, one of the most underrepresented scenes. That's not strictly a "what's happening in Nashville" problem either; metal, the no-frills, old school, straightforward and heavy kind, is underrepresented in America as a whole. That's why we jumped at the chance to check out one of the greatest American metal bands of our generation, Mastodon, along with two killer European acts, Gojira and Kvelertak, last week at Marathon Music Works. Read on for our thoughts on the show, plus some great photos of the face-melting night!
Gojira. Photo by Shayne Garcia.
Nordic countries have long been known to produce some of the best acts in modern metal, and Norway's Kvelertak are no exception. Combining black metal with elements of hardcore punk, they brought a different dynamic to the lineup. I, unfortunately, only caught the tail end of their set, but arrived just in time to get a taste of their intensity and strong ability to work a crowd, even early on a weeknight. After a bit of a changeover, which included setting up a massive array of amps on stage (gotta love bands who keep the showman aspect of rock alive), French proggy death metal act Gojira entered to sampled sounds of Godzilla roars (their name comes from the Japanese title of the original Godzilla film). Though I wasn't familiar with their music before writing a preview of the show, I was intrigued to read about their environmentally conscious lyrics, and immediately enamored by their technical, brutal sound. Live, they absolutely met my expectations, conjuring a bone-rattling intensity and unstoppable momentum. The crowed seemed very much hooked from the first note, tossing up devil horns and rocking along throughout. Gojira's stage presence had a bit of an old school vibe, and frontman Joe Duplantier, donning a Mastodon shirt, had the vocals, banter, and moves down like a well-oiled metal machine. Consider me a new fan.
Mastodon. Photo by Shayne Garcia.
After the zoo of Gojira gear had been removed, and a more modest array of amps brought forward in its place, Mastodon's massive backdrop was instantly visible, and had the near-sold out crowd anxious for the evening's headliners. My first experience seeing Mastodon was a decade ago, in what was essentially a knockoff Chuck E. Cheese's, crammed in with about 400 people. My second and only other brush with the group was this summer at Bonnaroo, where I caught only a short snipped of their late night set, a brief but memorable chunk of a crazy weekend. I've followed the group casually over the years, and their releases seem only to have gotten better and better; needless to say, my expectations were high. Erupting onto the stage with new album opener "Tread Lightly," Mastodon shattered my expectations from the first second, and went on to deliver what was, albeit without much to compare it to, the best metal show I've ever seen in Nashville. Nearly a decade and a half into their career, the Atlanta group have risen through the heavy metal ranks, and, at this stage, are a seasoned juggernaut; a truly great modern rock act able to blend sub-generes and constantly innovate while only growing better and better as a live unit. Their set was career spanning, and, in a true testament to the strength of all of their releases, fans seemed equally as excited about every song.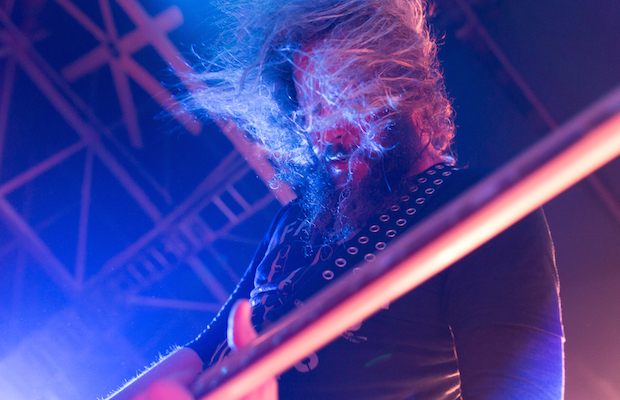 Mastodon. Photo by Shayne Garcia.
From a technical standpoint, Mastodon performed with an unparalleled precision and a restrained control, able to let dynamics and melody float through, but never at the compromise of their heavy, freight train of sound. Fans went especially crazy for favorites like "Oblivion" and "Blood and Thunder," the track they chose to close with. And, while the audience was rowdy, the tunes were loud, and the night was long, the show felt over far too fast; a symptom of the traction and content momentum present in Mastodon's performance. With such a successful turnout, I hope we'll be seeing more metal shows of this caliber in the future, but one thing's for sure: Mastodon are one of a kind.
_
Setlist:
Tread Lightly
Once More 'Round the Sun
Blasteroid
Oblivion
The Motherload
Chimes at Midnight
High Road
Aqua Dementia
Ol'e Nessie
Halloween
Aunt Lisa
Divinations
Bladecatcher
Black Tongue
Ember City
Megalodon
Crystal Skull
Blood and Thunder
_