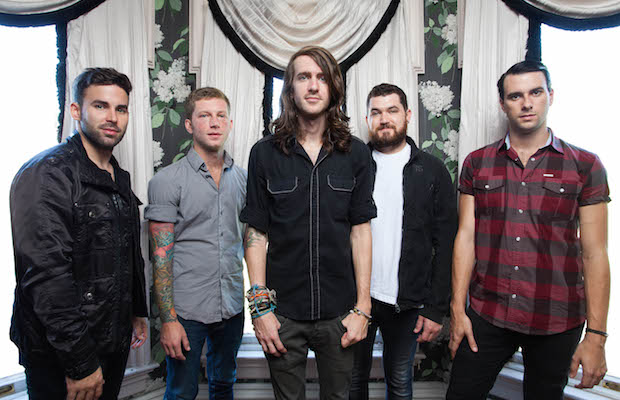 For once, it's a pretty killer night for all ages show options. In addition to the more metalcore leaning lineup of Issues and more at Rocketown this evening, Cannery Ballroom is hosting another great group of bands, who all play more straightforward pop punk and alt rock: Mayday Parade, Tonight Alive, Major League, and PVRIS! Grab your tickets now, and read on for more about this awesome bill!
MAYDAY PARADE
Veterans of the pop punk scene, Florida's Mayday Parade seem to make it through Nashville about once every year (we got a bonus this year in the form of Warped Tour). Though I missed them last fall, I distinctly remember catching the group at Rocketown in late 2012: it was election night, and the results came in as the band took the stage. With four impressive full-lengths under their belts, and a fifth to be released next year, Mayday Parade have perfected their hook-based, radio friendly, alt rock informed flavor of pop punk, and have amassed a dedicated and far-reaching fanbase through years of relentless touring. The group always impress with their performance chops, so, if high energy and tons of singalong friendly tunes sound like your idea of a fun night, there's no better place to be than Cannery Ballroom.
TONIGHT ALIVE
Australia's Tonight Alive, should, be all accounts, be a much bigger deal. Female fronted pop punk akin to early career Paramore, the band have become a live powerhouse through years of nonstop touring, and their upcoming third full-length is one of our most-anticipated releases of next year. We last saw them bring the house down at The End; there's no telling what they're capable of in a space like Cannery!
MAJOR LEAGUE
Hailing from the musical mecca of New Jersey, Major League have quickly become one of the buzzieist, no frills acts of the current underground, pop punk revivalist scene. They definitely add an extra dimension of depth to the lineup, and should serve those of you who crave a little more punk and a little less pop.
PVRIS
Synthpop/alt rock trio PVRIS are about to blow the hell up, and that's all there is to it. The female fronted rockers' new album, White Noise, has been EVERYWHERE this week, earning props from all corners of the music industry, and nabbing the group some seriously influential and humbling fans. Get there early and catch them as openers while you still can; they'll be headlining the place before you know it.
Mayday Parade, Tonight Alive, Major League, and PVRIS will perform tonight, Nov. 12 at Cannery Ballroom. The show is all ages, begins at 6:30 p.m. (doors at 5:30 p.m.), and tickets are available for $22.