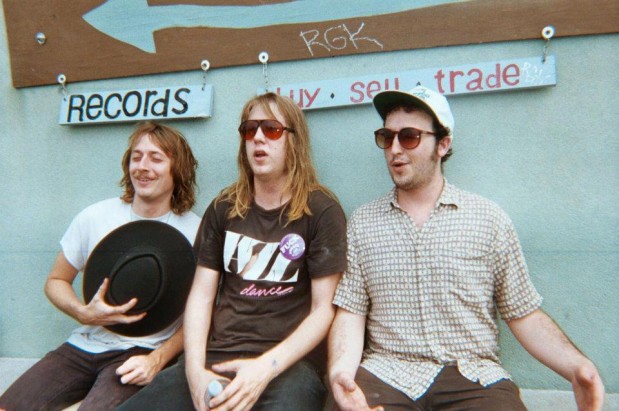 Southern California label Burger Records pretty much specializes in awesome.  They seem to have their fingers in every cool project happening these days, and their "Caravan Of Stars" tour is just one example.  Tonight at Exit/In, the fine folks at Burger bring us Natural Child, together Pangea, Mozes & The Firstborn, Denney & The Jets, and AJ Davila & Terror Amor for an evening of the best in twang, garage, experimental, and beyond.
Read on below for more on the acts, and snack up those $12 tickets right here.
NATURAL CHILD
Local rockers Natural Child hopped onto the Burger train with their February 2014 release Dancin' With Wolves, and with that release also hopped out of the Nashville garage and into the national conscious.  A fuller, more well rounded album that their previous (still bad ass) efforts has this record floating near the top of our best local releases of 2014 list.  It'll be a bit of a homecoming show for the fellas, and you know that means a party!
TOGETHER PANGEA
Fuzzy rock is the name of the game for LA rockers together Pangea.  We got to see them at last year's Caravan show at Mercy Lounge, but they have released another record, Badillac, since then, and continue to garner plays in our book.
MOZES & THE FIRSTBORN
Mozes & The Firstborn popped onto our radar months ago, but we've yet to have the chance to catch them.  Tonight's the night to see the dutch sunny, fuzz rockers in Nashville as they are touring in support of their debut self-titled release from earlier this year.
DENNEY & THE JETS
Local Chris Denney, the front man Denney & The Jets is celebrating the stellar 2014 release, Mexican Coke, which we have told plenty of people around town that this IS our favorite local record of 2014.  If you haven't given it a listen yet, then you are really missing out.  Get a taste below.
AJ DAVILA & TERROR AMOR
AJ Davila may be best known for his, Puerto Rican garage rock project, Davila 666, but the Terror Amor side project has picked up quite a bit of steam in the meantime.  Stream the unique jams below to see why you'll want to gnosh some pizza on the quick to make it to Exit for the 8pm start time.
Natural Child, together Pangea, Mozes & The Firstborn, Denney & The Jets, and AJ Davila & Terror Amor will perform tonight (11/5/14) at Exit/In. The show is 18+, begins at 8pm (doors at 7pm), and tickets are available for $12.