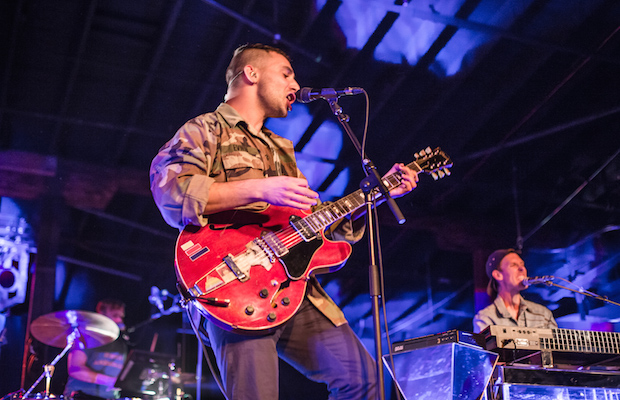 Bleachers
w/ Wild Cub
Cannery Ballroom; Nashville, TN
October 29, 2014

Review by Philip Obenschain (@pobenschain). Photos by Matt Cairns.
Bleachers are something of an anomaly. It's not unusual for members of prominent bands to step into frontman roles and achieve similar acclaim, nor is it strange for members of bands to have lesser-known side or solo projects. Rarely, though, does a whole new project (distinctly not a "side" project) emerge at the heart of a band's success, and not after the fact, rivaling that main band in prominence and talent. Bleachers, the solo vehicle of fun.'s Jack Antonoff, is such a band; one born out of a desire to do something different, something co-existant, with his Grammy-winning vehicle, and one that sprung out of nowhere to become the indie pop act of the summer. We caught Antonoff and co. for their first ever Nashville show last week, along with local breakout band Wild Cub. Read on to see what we thought.
Wild Cub. Photo by Matt Cairns.
Kicking off the night were local synthrock/post-punk group Wild Cub, who we've told you about on numerous occasions. We've witnessed this band in every space imaginable: from grungy, DIY pop up shows to major festival stages. At this point in their career, and deep into a year which has included the Mom + Pop re-release of their full-length debut, television and festival appearances, worldwide critical accolades, and nonstop touring, Wild Cub have never sounded so confident and polished. Blasting through favorites like "Thunder Clatter" and "Colour," the Keegan DeWitt-led band seemed to channel an extra spark in Nashville, for their first hometown show in several months. At this point, Wild Cub perform like a well-oiled machine, and it's a true delight to see just how far they've come so quickly, and how deserved they are of all of their success. Despite the Bleachers-heavy crowd, Wild Cub managed to win everyone over, and warmed up the stage perfectly for the act to follow.
Bleachers. Photo by Matt Cairns.
After a quick changeover, Jack Antonoff and his extraordinary backing band took the stage as Bleachers. We've seen Antonoff perform on several occasions in fun., where he commands the role of guitarist, and, though that has always been a high energy and thrilling experience, Bleachers puts the multi-instrumentalist back front and center, where he performs more akin to his days in previous project Steel Train (another old fave of ours). Antonoff's recent turn playing stadiums has certainly informed his delivery; his ability to conjure up an insane amount energy, and to deliver to a medium-sized room like Cannery the way he would in a space like Bridgestone was unbelievable. From the first note, with album opener "Wild Heart," Antonoff had the crowed's utmost attention, prompting loud and enthusiastic sing-alongs and never losing an ounce of his momentum. Though his set was short and sweet, and only included two non-Bleachers songs: a Steel Train track and a cover of The Cranberries' "Dreams," it was nothing short of stellar, and left us, and the rest of the eclectic audience, wishing he had more material to pull from.
Bleachers. Photo by Matt Cairns.
A musician as talented as Jack is sure to assemble a quality group of backing players, and Bleachers' band was nothing short of fantastic. With two drummers (wow) and more, every part of every synthy, nostalgic '80s inspired sound was covered, and set a tight, polished backdrop for Antonoff's over the top energy and stage presence. Though they're a new band, Bleachers perform like seasoned rockstars, and, we hope, despite upcoming obligations with fun., that they're a project that will be around for a long, long time. Be sure to check them out the next time they're around!
_
Setlist:
Wild Heart
Like a River Runs
Shadow
Wake Me
Reckless Love
Dreams (The Cranberries cover)
Take Me Away
Rollercoaster
You're Still a Mystery
Bullet (Steel Train cover)
Who I Want You to Love
I Wanna Get Better
_