Ludacris, Iggy Azalea
w/ Jeremih
Vanderbilt Memorial Gymnasium; Nashville, TN
October 9, 2014

Review by Philip Obenschain (@pobenschain). Photos by Michael Brooks.
Every year, Vanderbilt University hosts a homecoming weekend Commodore Quake, a student-curated concert at the Memorial Gym which is open the public. A reflection of student taste, the quake is, typically, heavy on the rap side of the spectrum, and this year's event proved no exception. Pairing veteran rapper turned actor Ludacris with Australian newcomer and female rap superstar Iggy Azalea, the Quake also boasted r&b singer Jeremih, and proved to be another fun mashup of artists you're most certainly going to find on any typical Vandy student's iPod (er, uh, Spotify favorites- are college kids even old enough to remember iPods anymore?). We went down to check it out, and posted some thoughts and photos below.
Jeremih. Photo by Michael Brooks.
A Nashville resident of just over two years, I've spent very little time at Vanderbilt. The lineups for the last two Commodore Quakes have piqued my interest, but not enough to get me in the door, and I'm not particularly a college sports fan, so, as such, this marked my first time at Memorial Gym. A pretty typical, expansive basketball gym for a large school, its layout was well-suited for this type of event. The floor and back section were packed earlier, but poor attendance seemed to plague the sides and upper levels all nights, which is not an unusual phenomenon for collage curated shows. Arriving late and being pointed in numerous directions with my non-section specific "media" badge, I finally settled into a seat just as Jeremih was winding down. A young r&b singer best known for his 2009 breakout hit "Birthday Sex," the singer has been experiencing something of a career resurgence as of late. The crowd seemed to enjoy him well enough, but he's clearly not as a big a name as the night's other talent; as such, just as many students were texting or holding conversations with friends as were singing along enthusiastically.
Iggy Azalea. Photo by Michael Brooks.
I (and the majority of the crowd, apparently) was most compelled to attend because of Iggy Azalea. My history with Iggy is probably a bit more expansive than most of her fans', since the unlikely Australian rapper managed to fly largely under the radar until the career-definitng smash success of breakout single "Fancy." She's been living in America and making music for quite a few years now though, and I stumbled upon her nearly 4 years ago, when all she had to offer were some raunchy singles and uneven mixtapes. My last experience with Iggy was at a CMJ showcase in 2011, where she rapped to a laptop in a cozy little bar and ranted about Papa John's pizza.
Needless to say, the Iggy Azalea of today is a certifiable pop star; a chart-topping, celeb collabing, magazine cover grabbing public figure, and one hip hop's most acclaimed new artists. Country of origin, race, gender, and technical prowess aside, Iggy's success is something you can't deny, and, while it might soon level off or cool a bit, she doesn't appear to be going anywhere anytime soon. Delivering a well-rehearsed, choreographed, and fierce performance, Iggy was aided by a skilled DJ, backup dancers, and elaborate set pieces. She blew through her mega hits, lesser known cuts from her acclaimed full-length The New Classic, snippets of other artists' songs she's appeared on, and, to my delight, peppered in some of her back catalogue. The student heavy crowd seemed most invested in the hits, and, hey, I can't blame them. A relatively new (at least in the public eye) artist, Azalea blew up faster than she had time to develop, so most people who are casual fans only know a handful of tracks. Regardless, she really delivered on the technical front, and proved that she's grown into quite the compelling, confident, and stadium-primed MC I always had a feeling she could be.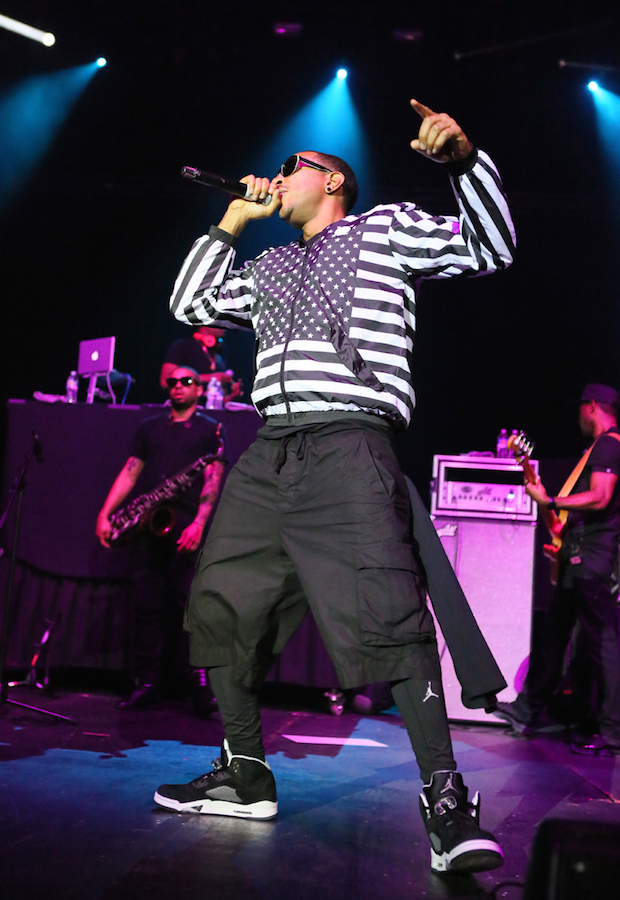 Ludacris. Photo by Michael Brooks.
Following Iggy's tight set, we waited. And waited. And waited. Finally, after what might have been the longest changeover I've experienced all year, MC turned actor and entrepreneur Ludacris took the stage, bursting into a loud, bombastic, and passionate set, which pulled from his entire catalogue. I've noticed a trend in hip hop in recent years, where many rappers have adopted a more pop-like or rock-informed performance style, crafting their set around certain songs and building the show up as more of an exhibition. Luda has not subscribed to this, however; he keeps it old school. With the help of a hype man, killer DJ, and full backing band, Luda played to the crowd, using call and response to get everyone riled up, and let the set evolve based on energy level and response. He's a true showman, a trait that has likely only been enhanced by his successful acting career, and, while it's been a few years since he's produced a crossover smash hit, his repertoire is memorable and impressive.
The response for Ludacris was not quite as intense as for Iggy (which is a bit of a disappointment, I must say), but, nonetheless, the real fans turned out strong, and kept the energy alive throughout, even as the room thinned a bit. My only other experience with Luda was at Bonnaroo 2012, and that performance was simply electrifying; a feeling that an awkwardly-paired one-off college show would be hard pressed to recreate. Nonetheless, I enjoyed the rapper's solid, inspired set and gawked at his sheer talent and authenticity. Not a bad first Commodore Quake experience, I must say.
_