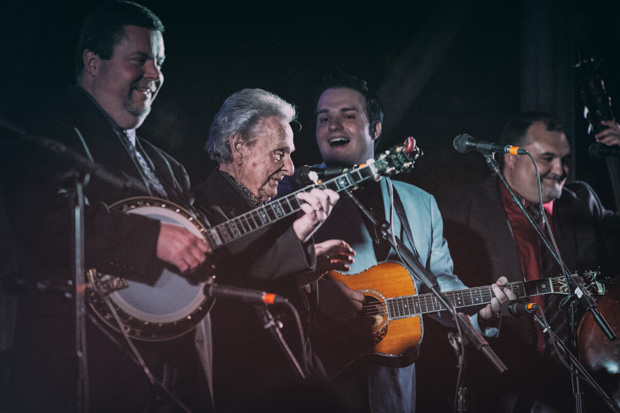 If you've seen Dr. Ralph Stanley and his Clinch Mountain Boys perform in the past 14 or 15 years, you, like us, will always remember the moment in the show when the lights cut low and everything got quiet. A lone Dr. Stanley stood on stage, a silhouette in the remaining light, and belted out "O Death" to a silent, awe-struck crowd. We've been fortunate to lay witness to a handful of his local performances over the last several years, and we never miss a chance to catch him again. That's why we jumped at the opportunity to cover tonight's show at the exciting new Nashville venue, City Winery.
Check out below after the jump for more details on Dr. Stanley what to expect from tonight's experience.
The Clinch Mountain Boys date back to 1946 when brothers Ralph and Carter Stanley combined the mountain music of their native southwest Virginia with the beautiful harmonies of the Carter Family. They also billed themselves as the Stanley Brothers as they continued to tour and gather fans until Carter's premature death in 1967. Dr. Stanley continued with his solo career and as band leader for such talents as Ricky Skaggs, Keith Whitley, Larry Sparks and Charlie Sizemore.
Dr. Stanley gained notoriety among a much broader crowd with the release of "O Brother, Where Art Thou?" in 2000. His recording of "O Death" won the 2002 Grammy Award in the category of Best Male Country Vocal Performance. That unmistakable voice and his sad, lonesome songs have been permanently etched in our minds, and there is no feeling in the world like hearing him sing them live. If you can, join us tonight.
Dr. Ralph Stanley and The Clinch Mountain Boys will perform tonight, Oct. 13, at City Winery. The show is all ages, begins at 8pm (doors at 6pm), and tickets are available for $40-55.