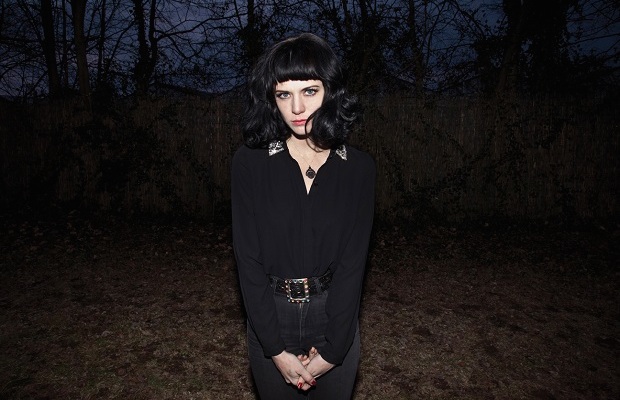 Jim Lauderdale, Nikki Lane, Lucette
Exit/In; Nashville, TN
Saturday, September 27
Review by Jacqui Sahagian.

Last weekend we attended Exit/In's 43rd birthday party, where alternative country singers Lucette and Nikki Lane warmed up for Nashville songwriting legend Jim Lauderdale in a celebration that was decidedly country for what has become a mostly rock and roll venue. Lane, in particular, brought down the house in her signature hipster-hillbilly fashion, and debuted some new material before Lauderdale played through a huge chunk of his enormous catalog, wearing out even his most dedicated fans.
Read our review of sets by the melancholy Canadian chanteuse, the East Nashville hellion, and the country legend after the jump.
Given the big age difference between the two openers and the headliner, the crowd showed bigger variance in age than is typical. Lucette said that the performance was her first real show in Nashville, and she certainly got a good gig opening for two country artists as different and as popular as both Lane and Lauderdale. The singer has been likened to a country version of Lana del Rey, and, though she does have a tendency towards the sad and a low, raspy voice, she deserves to be taken a bit more seriously than that (though many would say the same of del Rey herself). The raven-haired beauty played the keyboard and sang songs about murder, but her set wasn't all that dark. The closer "Utah" was a straightforward pop song showing that Lucette has plenty of potential for crossover appeal as well.
Much of the crowd under the age of 40 was there to see Nikki Lane perform in her hometown for the first time after months on the road and an appearance on Conan. Lane is based in East Nashville and recorded her most recent album All Or Nothin' with Dan Auerbach. The record has gotten raves in the alternative, outlaw country world, and Auerbach's involvement has earned her some credit with the hipsters (her great fashion sense also helps with that). Lane's cute, drunk hillbilly act was endearing when so many others' attempts at the same are obnoxious, and her voice sounded much stronger and more confident after all the touring she's done than it does on the album. She played much of All or Nothin', covered Waylon Jennings' "I've Been A Long Time Leaving," and debuted a new song about her hometown of Greenville, South Carolina called "Seven Hundred Thousand Rednecks." That song was the best cut of her set and signals good things to come for the new material she's been writing on the road. "If I had 700,000 redneck fans I'd be famous as shit," she said. Keep yodeling, Nikki, and you probably will.
Jim Lauderdale has one of the most impressive resumes imaginable, with a long career as both one of Nashville's most respected songwriters and session musicians. He's written for Patty Loveless, the Dixie Chicks, and George Strait and has played with Elvis Costello, Rhonda Vincent, and Mary Chapin Carpenter among many others, as well as maintaining a prolific solo career. Lauderdale had a lot of long-time fans at Exit/In on Saturday and used the opportunity to play a huge swath of his material. His frequent co-writer and self-described best friend Buddy Miller, with whom Lauderdale also hosts a radio show on Sirius XM's outlaw country station, joined him for a few songs the pair had written together, including the Dixie Chicks track "Hole In My Head." He also played songs from his twenty-sixth and most recent solo album that came out this summer, I'm A Song, including the title track. The song "I Lost You," which he co-wrote with Elvis Costello, was another highlight. Lauderdale is considered songwriting royalty and he gave credit to either his co-writers or whoever wrote the track before almost every song he played. And he played a lot of them as the increasingly older crowd stayed to dance and the younger ones slunk off, perhaps to go drink with Lane at 308.