Loretta Lynn. Photo by Sundel Perry.
2014 Americana Fest
Nashville, TN
September 2014
Review contributions by Jeff Moody [JM], Shawn Jackson [SJ], and Matt Hall [MH]
Photos by Shawn Jackson of Sundel Perry
We are finally catching our breath after one of the largest and most impressive Americana Fests in the event's nearly decade and a half long existence.  Given the breadth of talent, we decided to bring you an interview style set of highlights (similar to our review of this year's SXSW Conference in Austin) from those of us at No Country who were the most focused on coverage.
Head below to see what we saw, and then check out some amazing photos from Sundel Perry.  Note: the photos are broken up into several different galleries, so make sure you scroll to the bottom of the post to see all the action!
St. Paul & The Broken Bones at the Ryman Auditorium
Festival highlight:
[JM] The Awards Show at The Ryman was outstanding!  This was my third time and each one has been great.
[MH] Agreed! This was my first time at the Awards and Honors Show at The Ryman, and the level of talent that runs through that stage for one song each.  It was truly a night to remember.
[SJ] Sturgill Simpson at City Winery after the Awards show.  It was the fourth time I'd seen him, but it was by far the best performance I'd seen from him and his band. I was even more pleased to see Jason Isbell in the front row grinning from ear to ear. He's obviously a big fan of Simpson and his band, too.
Sturgill Simpson at City Winery.
New artist discovery:
[JM] Face melting set by Ben Miller Band at High Watt and a fun Cajun band, Feufollet, at Station Inn.
[MH] Though it isn't really a new artist for me, it was the first time I had seen Sturgill Simpson live, and that was a pretty moving experience.  It was no wonder that he walked away with the Emerging Artist award this year, and Shawn made missing his set at City Winery my biggest regret.
[SJ] Caroline Rose.  I caught her briefly at the Basement on Tuesday during the writer's session, but she really brought it at the High Watt later in the week with her band.
Ben Miller Band at The High Watt
Craziest crowd:
[SJ] When St. Paul & The Broken Bones performed at the Honors & Awards Show at the Ryman, the crowd exploded.
[JM] I was going to say the whole awards show, but the St. Paul & The Broken Bones set was the best I've seen them perform.
[MH] The Avett Brothers on The Riverfront.  I'm not a super fan, but it's impressive to see how many people they affect.
Best "surprise" guest(s): 
[JM] Ry Cooder and John Hiatt with Haden Triplets.
[SJ] I had expected that Ry Cooder would be performing with the Haden Triplets, but I had no idea John Hiatt would be there.  Also, when I saw Robert Plant walking around backstage at the Ryman, I almost fainted.
[MH] Absolutely Robert Plant.  Rumors swirled all week about a probable Patty Griffin / Robert Plant sighting, and you wouldn't have believed the number of cell phones snapping pictures when they finally took the stage.
Billy Joe Shaver at Mercy Lounge
Biggest buzzkill:
[JM] Guy passing out during Haden Triplets show at Third Man.  (Shawn's wife provided medical assistance so he might have an update)
[SJ] I think it was low blood sugar, he rallied in time to catch the end of the show.
[MH] The food lines at Riverfront for The Avett Brothers.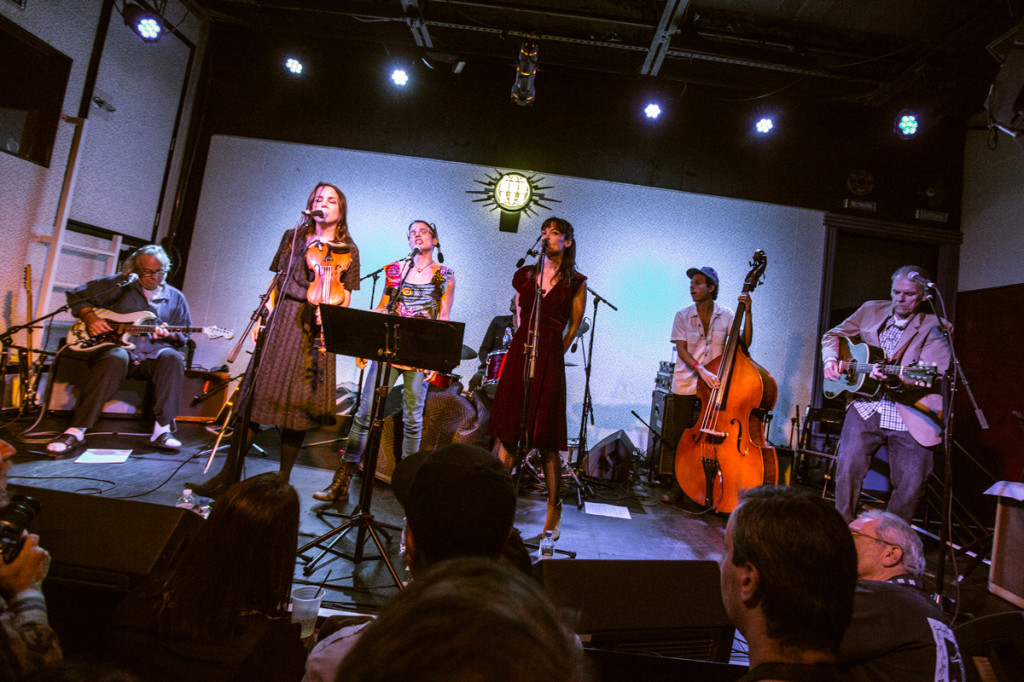 The Haden Triplets w/Ry Cooder & John Hiatt at Third Man
Best Solo Performer: 
[JM] John Mooreland at High Watt is a singer-songwriter who crafts powerful lyrics.
[MH] Without a doubt, Shakey Graves at the Riverfront stage.
Biggest Regret / Missed Show: 
[JM] Bluegrass Situation at Station Inn.  Paper plate on the front door said it all:  SOLD OUT
[MH] Not being able to see more of the events.  Work just seemed to be constantly in the way.
Honors & Awards Show Gallery:
City Winery Wednesday Night Gallery:
3rd & Lindsley Thursday Night Gallery:
The High Watt Thursday Night Gallery:
Third Man Records Friday Night Gallery:
Mercy Lounge & The High Watt Saturday Night Gallery:
City Winery Sunday Morning Gospel Brunch Gallery: