LIVE ON THE GREEN WEEKEND FINALE
Public Square Park; Nashville, TN
August 28, 2014
Review by Matt Hall & Wes Davenport. Photos by Sundel Perry and Mary Beth Blankenship. 
Despite threats of inclement weather, the three day finale for Live On The Green went off without a hitch.  We were there for all three days for the inaugural mini-festival took over Nashville, and featured record breaking crowds, top notch performances, and a truly great beginning to an incredible event.  Read on below for our coverage of Thursday, Friday, and Saturday, as well as some great photos from Shawn Jackson of Sundel Perry and Mary Beth Blankenship.
THURSDAY
CAGE THE ELEPHANT, DELTA SPIRIT, JOHNNYSWIM
Johnnyswim. Photo by Mary-Beth Blankenship.
It was a hot and muggy Thursday evening as Johnnyswim took the stage to kick off the three day finale, but that wasn't going to stop the throngs of fans that were already pouring into Public Square Park.  The husband and wife duo's pop songs filled the air and brought smiles to the faces of those early arrivals.  As we often say about larger stage set ups like Live On The Green, it's really awesome to see a band that we've become familiar with from local hangs like The Basement, under the lights and huge production.  It took their music from a level of pretty to downright powerful. [MH]
Delta Spirt. Photo by Mary-Beth Blankenship.
It's been several years since we've seen indie rockers, Delta Spirit, and the time has been good for them.  A solid act from our aging memories, the now Brooklyn-based band featured a jammy take on tracks spanning the history of their catalogue, and brought an energy that would only continue to intensify as the record breaking crowd continued to pour in. [MH]
Cage the Elephant. Photo by Mary-Beth Blankenship.
By the time that Cage The Elephant took the stage, the evening seemed to get hotter and thicker, but, by this point, the crowd was not going to be stopped.  Forcing their way toward the stage, we actually worried about folks getting hurt or passing out from heat exhaustion.  Luckily we only saw a couple of instances of the latter and no one was injured from our safe vantage point, but it is a reason that you should consider jumping on those VIP tickets next year.  Cage poured through hits from their first three records with a special emphasis on their 2013 third release, Melophobia, which is packed with crowd pleasers.  Huge shout out to the Nashville / Bowling Green band of friends for taking Live On The Green to the next level. [MH]

Photos by Mary-Beth Blankenship.
FRIDAY
THE WILD FEATHERS, G LOVE & SPECIAL SAUCE, AUGUSTANA, DANIEL ELLSWORTH & THE GREAT LAKES
Daniel Ellsworth & The Great Lakes. Photo by Sundel Perry.
Our only complaint from this year's Live On The Green was the early Friday start time.  We closed up the offices a little early on Friday to make sure that we caught Daniel Ellsworth & The Great Lakes, but only managed to arrive in time to see their final song.  We're big fans of DE&TGLs, and were disappointed that we (and a smallish at that point crowd) were unable to see more of their incredible pop sounds.  However, like with Johnnyswim, it's awesome to see friends that are hot in the club scene absolutely destroy a stage the size of Live On The Green.  I'm sure it won't be the last time. [MH]
Augustana. Photo by Sundel Perry.
Augustana followed with some smooth stylings from the partially local band.  While we are all familiar with their 2005 breakout hit "Boston," we were rolling in without much to go on.  What definitely stands out with Augustana is the powerful voice of frontman Dan Layus. In some situations, breakout hits tend to come with a label of "one hit wonder," but their performance on Friday left us wondering when we'll hear about a follow up to their respected 2014 release, Life Imitating Life. [MH]
G. Love & Special Sauce. Photo by Sundel Perry.
G Love & Special Sauce took to the stage as the sun fully set, and were one of our most anticipated acts of the weekend.  We've been jamming to their cleverly packaged rock tracks for almost 20 years now, but, even as a group that sees 100s of concerts every year, have never had a chance to see him live.  Getting to hear the fun jams like "Baby's Got Sauce," "I-76," and "Cold Beverage" just to name a few was all that we needed to keep an ear to ear smile plastered on our faces for the evening. [MH]
The Wild Feathers. Photo by Sundel Perry.
By the time The Wild Feathers took the stage, the crowd was starting to reach a truly respectable size for the first-ever Friday edition of Live On The Green, and it solidified the fact that this band has gained a lot of respect in the past couple of years.  Their fresh take on southern rock is ferociously danceable, and, when we watched a number of those around us singing to every word, it is a reminder that the ceiling seems really high for these local rockers. [MH]
Photos by Sundel Perry.
SATURDAY
JAKE BUGG, THE LONE BELLOW, LP, INGRID MICHAELSON, SUGAR AND THE HI LOWS, PHIN
The Saturday edition of Live of the Green felt refreshingly festival-like rather than your standard one-off outdoor event. The staff handled the rain like pros, delaying each set a measly 30 minutes to perfectly time the sun coming back out. Being on-site before the music kicked off was pleasant, with people milling about and getting their buzz started for the day.
Phin. Photo by Sundel Perry.
Local indie five-piece Phin brought plenty of buzz into their set. The Music City Mayhem champs turned heads with their debut, Those Killers, and the new tracks from their next release sounded even better to our ears. A bold move: their cover of Sam Cooke's "A Change Is Gonna Come." These guys have been very selective with their Nashville shows. While understandable, we want more Phin appearances! [WD]
Sugar and the Hi Lows. Photo by Sundel Perry.
Trent Dabbs and Amy Stroup graced the stage together as Sugar and the Hi Lows. Stellar songwriters in their own right, they seemed in sync from a natural cohesion. Their sunny personalities lifted the project's feel-good '50s inspired tunes as clouds broke sunlight onto the stage. While Sugar and the Hi Lows is all about the golden-era R&B throwback, Dabbs and Stroup made it sound very "Nashville-now." The act went over well in the crowd of professional songwriters, families, students, and music fans. [WD]
Ingrid Michaelson. Photo by Sundel Perry.
Ingrid Michaelson brought the late afternoon into full gear. A seasoned performer, Michaelson's banter was every bit as clever and likable as her witty compositions. She nabbed laughs by hitting on "all the cute photographers" before requesting they refrain from shooting any bathroom, toilet-sitting angles. Michaelson brushed off some of her older catalog alongside the new, prefacing the performance with "my songs are cute" along with "I'm serious and dark and twisted." Both are definitely true. One minute, she's enjoying a spoonfest with guests Sugar and the Hi Lows; the next, we're treated to the seductive and sinister "Warpath" off her new record, Lights Out. [WD]
LP. Photo by Sundel Perry.
Now let's talk about LP. The elfin singer's vocals titanically swept the lawn. We were blown away with the sheer power and beauty behind her songbird vocals. We weren't the only ones. The rest of the night, everyone we spoke to raved about the ukelele-weilding songstress. Fans begged for "Tokyo Sunrise" and the crowd lost it during "Into the Wild" whistling. The whole set played off like a Greek epic, with our dark-haired hero reaching glorious, legendary heights.

Admittedly, the comedown after LP needed to be greeted with several beverages and delicious snacks as the night crept in. Lightning 100 and staff takes care of their VIPs and artists. We here at No Country are super appreciative! [WD]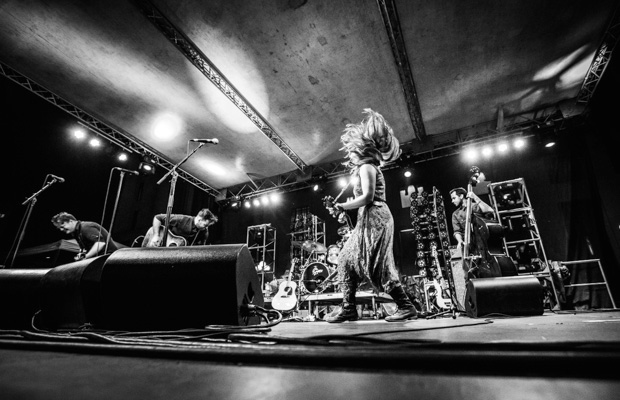 The Lone Bellow. Photo by Sundel Perry.

We stood side stage for The Lone Bellow so we could gauge crowd size and engagement. Public Square Park had ballooned to capacity by the time the folksy Brooklyn band started up. The Lone Bellow's three-part harmonies and country-tinged instrumentation were a perfect fit for the Nashville crowd. The unit blended into each other's lines skillfully, with Kanene Donehey Pipkin strumming her mandolin while Zach Williams and Brian Elmquist pulled guitar duties. [WD]
Jake Bugg. Photo by Sundel Perry.

We thought the musical transition to Jake Bugg would go like an Olympic relay, but, for some reason, the gluttonous crowd began to thin. No matter! More Jake Bugg for us. The 20 year-old British artist held down the stage either by himself or with just a couple of friends. Bugg commanded the Live of the Green closing ceremonies aptly, with rollicking jams and ballsy vocals. [WD]
Photos by Sundel Perry.
All and all, we'd call Live on the Green's first stab at a three day event and break from their typical Thursday format a success, with one caveat: that four-week season really flew by! Regardless, this year was the free fest's best ever, and we can't wait to see what 2015 has in store. Until next year!