LIVE ON THE GREEN
w/ City and Colour, The Weeks, and Spanish Gold
Public Square Park; Nashville, TN
August 14, 2014
Review by Philip Obenschain (@pobenschain). Photos by Mary-Beth Blankenship.
Music City's premiere outdoor, free music festival, Live on the Green, returned this week, kicking off its biggest season yet! Instead of the typical six week format, this year will run for just four weeks, with the final week extending through Friday and Saturday, and boasting inarguably some of the biggest and most exciting acts Live on the Green has ever featured. The first installment, which took place Thursday, featured alt/folk singer-songwriter City and Colour, along with locals The Weeks and new supergroup Spanish Gold. As always, we were on site to take in the fun, and you can find our recap and photos below!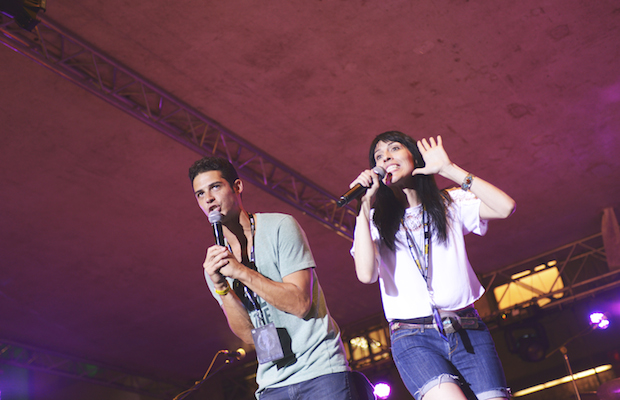 Lightning 100's Wells Adams and Heather LeRoy. Photo by Mary-Beth Blankenship.
Kicking things off, Spanish Gold, a trio made of up My Morning Jacket's Patrick Hallahan, Hacienda's Dante Schwebel (who is also a member of headlining act City and Colour), and Brownout's Adrian Quesada, delivered a set with such confidence and road-worn skill, it was easy to forget that they're a relatively new band. Given the pedigree of the players, however, and the depth achieved on their recent debut, South of Nowhere, I wasn't surprised to have been so captivated by their performance. Channeling elements of blues, indie rock, pop, and psychedelia, the trio performed for a much larger than normal early crowd, which would only swell as the night trudged forward. It was my first time seeing Spanish Gold live, but, certainly, it won't be my last.
The Weeks. Photo by Mary-Beth Blankenship.
By now, I've seen the The Weeks easily a dozen or more times live in every setting imaginable, including in the same supporting slot at last season's closing edition of Live on the Green. It only felt appropriate that the local rockers would return to open this season, flexing a more confident, nuanced, and engaging stage presence, no doubt forged throughout another strong year of world tours and festival appearances. It's been an incredible journey to watch these Mississippi transplants transcend from a literal garage band to full-on rockstars, and, without a doubt, the Live on the Green crowd was the largest I've ever seen them play for. While many attendees seemed there just to take in music in general, without regard to any particular artist allegiance, by the time The Weeks finished, the audience was larger than any I've seen at past LOTG installments, and, if it's indicative of the rest of this season, the fest is in for a HUGE year.
City and Colour. Photo by Mary-Beth Blankenship.
The main attraction and, without a doubt, artist I was most anticipating, Dallas Green, better known by his stage name City and Colour, entered the stage with a song and dance clap on the side platform; hilarious to witness from close up, but likely lost on a vast majority of the crowd. A one-time veteran of the post-hardcore scene, Green is tall and tattooed, a bit of an unlikely candidate for the mellow, introspective and folky singer-songwriter style he's best known for. I was blown away by his last Nashville performance, at the legendary Ryman Auditorium, and though the sound quality and ambience of Live on the Green can't quite compare to that of the Mother Church, the massive and enthusiastic crowd combined with the energy of Green's band made it a unique and incredible experience in its own right. Effortlessly breezing through renditions of fan favorites like "Comin' Home," "The Grand Optimist," and "The Girl," City and Colour had the audience hanging on every note throughout their entire lean 13-song set. A perfect and bold choice to kick off this Live on the Green season, City and Colour set the bar unbelievably high. I couldn't have asked for a better start to the year, and look forward to more incredible performers in the coming weeks! Check out more photos below.
_