Jim Lauderdale. Photo by Sundel Perry.
Michael Cleveland & Flamekeeper, Susan Werner, David Olney, and Michaela Anne
Music City Roots, Franklin, TN
Wednesday, August 6
Review by Jeff Moody
Photos by Shawn Jackson/Sundel Perry Photography
After last week's amazing trip back to Nashville's R&B and soul roots, this week's Music City Roots featured singer-songwriter Susan Werner, country artist Michaela Anne, multi-instrumentalist and songwriter David Olney, and the traditional bluegrass of Michael Cleveland & Flamekeeper. One of the great things about MCR is the opportunity to interact with the artists before, during and after the show. We discussed the merits of collard greens with Susan Werner while standing in the buffett line and chatted with members of David Olney's band before they took the stage.
We have our full review, and some amazing photos from Shawn Jackson of Sundel Perry Photography below.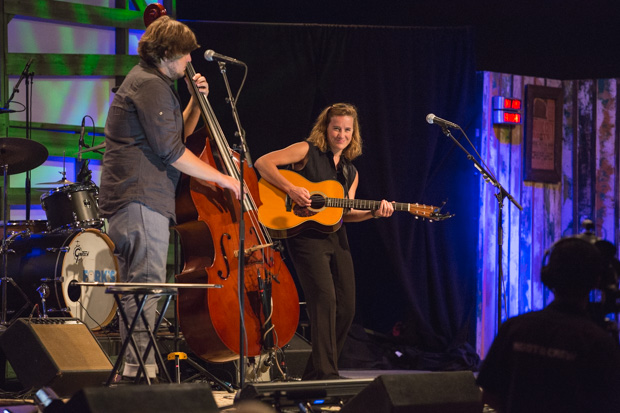 Innovative singer-songwriter Susan Werner returned to MCR in its new home. She played several songs off her latest album Hayseed, which pays tribute to American agriculture and to her Iowa farm roots, including "Back to the Land", "City Kids", and "Egg Money". She introduced her last two songs as "gospel songs for agnostics", which is something you don't hear often in the bible belt. "Why Is Your Heaven So Small", in particular, featured some amazing upright bass playing by Adam Chaffins. It was an excellent, well-paced set that showcased Susan's clever songwriting and remarkable musical talents. During her interview with Craig, she talked about her latest project which is writing the music to a major new musical version of the great movie Bull Durham.
Making her MCR debut was Michaela Anne, who recently…as in this past week…relocated to Nashville. Michaela caught the folk and country bug after meeting bluegrass musician Michael Daves. She is touring in support of her new record Ease My Mind, which is receiving great reviews. She and her Brooklyn-based band played a great set that opened with "Lift Me Up" and the title track. It looks like we have another up and coming female voice of new country.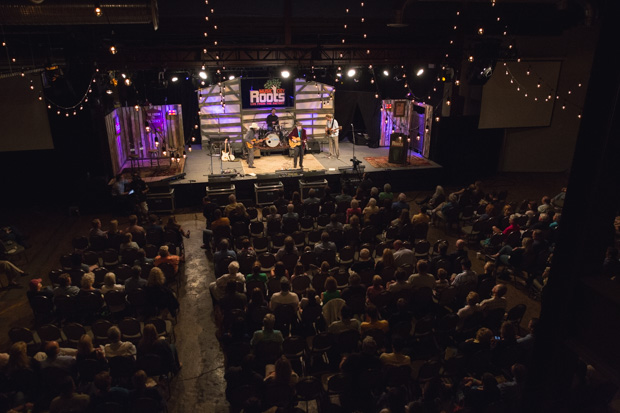 Long-time Nashvillian David Olney and his excellent band kicked things up a notch or two with their rocking set. The band feature Justin Amaral on drums, Dan Seymore on bass and the colorful Sergio Webb on guitar and banjo. The set opened with the title track of his new record "When The Deal Goes Down" and included "Something In Blue",  "No Trace", "Big Blue Hole" and closed with "Roll the Stone". A man of many talents, David acts in and has written new music for the Nashville Shakespeare Company's new production of As You Like It which premieres this month in Centennial Park.
Led by nine-time IBMA fiddler of the year, Michael Cleveland and Flamekeeper opened their set with "Johnny Thompson" and then "Fiddlin' Joe". Later in the set, the band left Michael alone to perform "Jack O' Diamonds" which also showed off the new sound system. The band came back and closed their set with "On The Other Side".  We were so enthralled by their performance that it seemed to pass by really fast. Then the other performers came back on stage for "Long Journey Home" as the Nashville Jam closer.