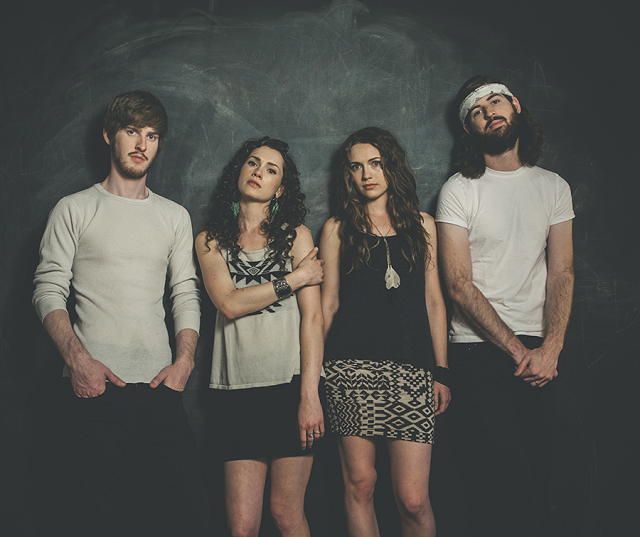 We've had the pleasure of seeing The Vespers a number of times over the past several years, so the opportunity to see and to tell you about their show at The Basement on Monday, July 21, was too good to pass up. With Anderson East opening up, our plans for tonight are shaping up nicely.
If you are interested in soaking up some great local Americana acts tonight, we've got the bill for you. Head below for some videos and information on the show.  Doors open around 7:30pm with the music starting at 8pm, and you can get in for $7 at the door.
The Vespers
We first saw Nashville originals, The Vespers, several years ago at Music City Roots, and were blown away by their unique blend of bluegrass, folk, & alternative music and showmanship. Since that time, they have built an extensive following through word of mouth and heavy touring. The band is made up of two brothers, Bruno and Taylor Jones, and two sisters, Callie and Phoebe Cryar, who provide impressive angelic vocals as only siblings can create. Taylor generally plays drums, mandolin, and, on occasion, provides comic relief, while the others alternate playing a variety of acoustic instruments. They were named one of SiriusXM's Top 10 New Folk Albums of 2012 and Huffington Post's Best Concerts of The Year.
The band previously independently released two full ­length records and album number three is on its way. Monday is not a CD Release Show, but they will be playing songs from their new album Sisters and Brothers before it's released later this year. It will also be the only way to purchase the new album before its national release, a gesture of love to their hometown fans.
Anderson East
Singer/­songwriter Anderson East has been described as taking only the best qualities from Otis Redding, Ray LaMontagne, and Ryan Adams. His vocals range from soulful cries to haunting whispers, while painting vivid pictures of his lyrics, and his songs offer up a heaping helping of alternative rock with a healthy dose of timeless Americana influence. East's full-­length album Flowers of the Broken Hearted was released in the Fall of 2012. He also co­-produced The Vespers' second album "The Fourth Wall".
The Vespers and Anderson East will perform on Monday, July 21 at The Basement. The show is 18+, begins at 8:00PM (doors at 7:30PM) and tickets are $7.