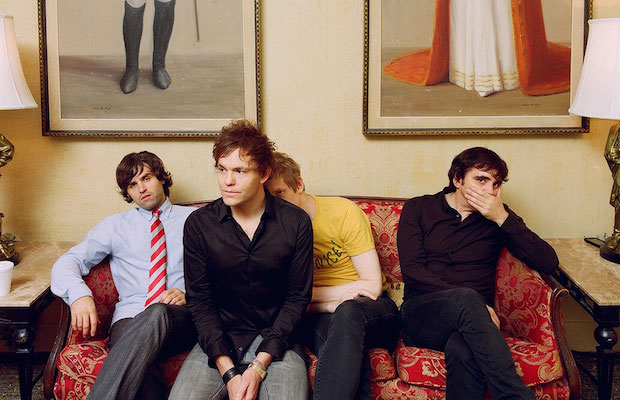 We told you about it, we gave away tickets, and, now, the night is finally here! Indie rockers Spoon are back after a bit of a break, prepping an all-new album and hitting the road for their first proper tour in several years. This evening's Marathon Music Works performance marks the group's first Nashville date in seven years, and local breakout artists (and Road to Bonnaroo winners) Blank Range are on board to sweeten the deal. Keep reading to find out more about both great acts, and head here to snag your tickets.
SPOON
Celebrating over two decades of existence, Spoon spent years honing their craft, organically building a cult following, and eventually crossing over to widespread commercial success. Regulars on the festival circuit, though relatively quiet over the past few years, the group are expected to release their eighth studio album, a followup to 2010′s Transference, sometime this year. During their unusually long break between albums, frontman Britt Daniel found success with new project Divine Fits, drummer Jim Eno continued on his prolific stint as a producer, including Nashville's own Turbo Fruits' latest, Butter, bassist Rob Pope found renewed success with his former band, The Get Up Kids, and multi-instrumentalist Eric Harvey released a new solo album, Lake Disappointment. As fantastic and diverse as their records are, Spoon are an even greater force to be reckoned with live. The spring is quickly filling up fast, but this is one show you absolutely don't want to miss!
BLANK RANGE
Though indie rockers Blank Range originally hail from the midwest, Illinois and Missouri to be exact, the Nashville transplants have more than assimilated into the culture and sound of Music City. With just one EP, last spring's Phase II, and a 45″, November's "Scrapin" b/w "Before I Go to Sleep," under their belts, Blank Range have exploded onto scene in just a year's time, becoming the round one winners of last month's Road to Bonnaroo competition by wowing judges and fans alike with an arsenal of guitarists, complimented by members of fellow local acts Diarrhea Planet and Apache Relay. Channeling an indie rock sound with callbacks to older flavors of rock and roll, garage rock, blues, and soul, Blank Range are a songwriting force to be reckoned with, ranging in style from upbeat and poppy, experimental and psychedelic, and straightforward and soulful over the course of the mere eight songs they've officially released. Keep an eye out for their full-length, which is currently in the works, and expect more extensive touring in the near future.

_
Spoon and Blank Range will perform TONIGHT, May 8, at Marathon Music Works. The show is 18+, begins at 8 p.m. (doors at 7 p.m.), and tickets are available to purchase for $35.