From Cannery Ballroom to The Woods at Fontanel to Bridgestone Arena.  The escalating circuit of Nashville venues that most artists dream of but never see.  Imagine Dragons are not most artists.  In less than two years the band has exploded in every sense of the word and finds themselves playing Music City's largest stage.  Luckily, the fun doesn't stop there.  New Zealand/Los Angeles quintet The Naked and Famous serves as the opening act and if any band is about to break in a similar fashion, it's these guys. A limited amount of tickets (prices range from $29.50-$45.00) are still available for the show TONIGHT, February 24th, 7:30pm at Bridgestone Arena.
IMAGINE DRAGONS
One of the greatest success stories in recent memory, Imagine Dragons have managed to infiltrate every aspect of the music industry in less than two years time.  Though the band has certainly paid their dues (touring for more than three years prior to their break into mainstream), they still remain one of the few acts whose list of achievements and accolades are almost unheard of and speak to a different era.  Their debut album Night Visions has sold more than two million copies in the U.S. alone and has spawned three Top 20 hits on the Billboard Hot 100.  The bands instant ability to connect and resonate speak true to their success and is quickly shaping them into a staple of the alternative music scene.  We don't just imagine dragons anymore, we know them to be true.
THE NAKED AND FAMOUS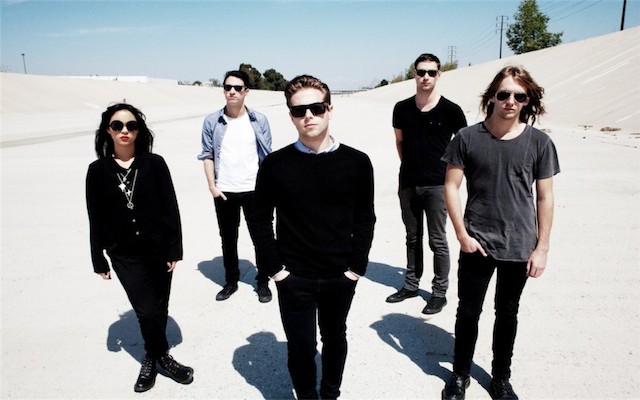 Hailing from New Zealand but now transplants to Los Angeles, The Naked and Famous have all the makings of the next big thing.  Their debut album Passive Me, Aggressive You sold over 500,000 copies worldwide lead by gold-certified single, 'Young Blood'.  Their second studio album, In Rolling Waves, received widespread praise with The Line of Best Fit writing, "It's a glorious return from one of 2010s most talked about bands that deserve to be talked about all over again."  The release garnered them a slot on The Late Show with Craig Ferguson to debut addictive single 'Hearts Like Ours'.  With producers like Justin Meldal-Johnsen (M83, Nine Inch Nails) and artists like M83 seeking to work with the band, I think it's time for the rest of us to start giving them our undivided attention.
Imagine Dragons and The Naked and Famous will perform TONIGHT, Feb. 24, at Bridgestone Arena. The show is all ages and begins at 7:30 PM.   A small amount of tickets to this can't miss show are still available here.