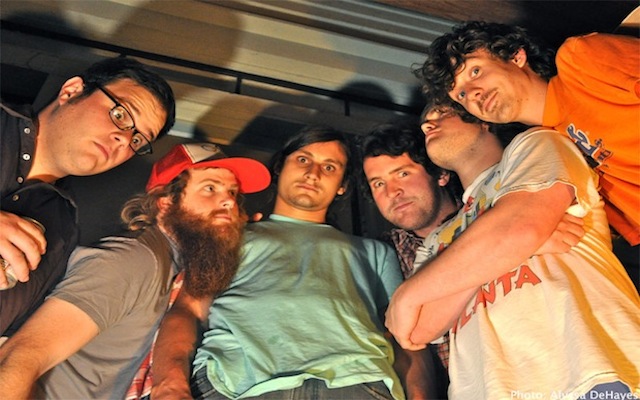 New Year's Eve in Nashville is certainly a great time to get a fix of some of your favorite tunes, or to go see Bassnectar, if you're into that kind of thing. We'll be doing our best to help you route out your plans for ushering in 2014 throughout today and tomorrow, but on the off chance that you want to get the party started a night early, we've got just the thing for you. This evening, December 30th, at Mercy Lounge, the fine gentlemen of Futurebirds will be accompanied by local favorite Derek Hoke and one of Nashville's few reggae DJs, Huntah Fiyah, for a night of debauchery, drinking, dancing, and ringing in the New Year the only way Nashville knows how: stunning live shows. The night will kick off around 9 PM, which means doors will open at 8 PM, and at all only $12-15 bucks this show is a steal. Like most of the shows at Mercy Lounge, this one's 18+ only. Also, this is the official after party for the Music City Bowl featuring Ole Miss and Georgia Tech, so if you're a supporter of either of these schools, you really should go out and get your groove on. It's your duty as a fan.
FUTUREBIRDS
If you've kept up with emerging indie acts at all during the last couple years, you've heard of Futurebirds. Even if you don't keep up with the buzz, you've heard of Futurebirds. I guarantee it. Watch the video below, I promise you've heard that tune before somewhere. Surely. I can't escape it these days.
Anyways, if for some odd reason you're still insisting on being unfamiliar with one of the fastest growing indie rock groups on the scene today, Futurebirds is the product of Thomas Johnson, Carter King, Dennis Love, Brannen Miles, and Daniel Womack. This troupe of talented tunesters (that's a word, right?) really shines in their ability to balance introspective and thoughtful lyricism and melodies with energetic harmonies and interesting tonal palettes. This is something that's pretty tough to describe in words, but a simple listen to "Virginia Slims", Futurebird's leading single from their most recent album Baba Yaga, will convince of exactly what was just described.
DEREK HOKE
This is Nashville, and if we know anything well, it's Americana music. Fans of that rustic sound are probably familiar with Music City's own Derek Hoke, but true Nashvillians might be familiar with Hoke for entirely different reason: he's the host of the 5 Spot's $2 Tuesday's. While we're sure Hoke probably doesn't mind helping one of Nashville's most unique venues sell some cheap beer, he also pumps out some pretty great tunes along the way, including Waiting All Night, his most recent effort from 2012. On that record, Hoke uses gritty guitars, a nice splash of organ, and choppy, memorable lyrics to reward listeners with some of the catchiest music around. Granted, if you're one of those Nashville hipsters who can't help but stick your nose in the air over the blues rock side of Nashville, Hoke won't appeal to you, but for the rest of us, Derek Hoke is a 50's tinged blues star with a fun personality, slamming keys, and authentic voice that goes unrivaled these days.
HUNTAH FIYAH
It's not often that No Country gets a chance to report about some homegrown reggae. After all, outside of Roots of a Rebellion and a couple of the regular acts over at the Caribbean Hut, reggae doesn't really have too big of a following here in Nashville. In our opinion, that's a damn shame. You should really desire change for yourself Nashville. Luckily, guys like DJ Huntah Fiyah of Punani Huntah (a band which actually features Casey Weissbuck of Diarrhea Planet) are still putting out good vibes for the people of Nashville to enjoy, and even luckily-er, you have a chance to see this awesome dancehall DJ do his thing tonight at Mercy Lounge. Be sure to get there early, kick back, and soak up the tunes. After all, you might need a dose of positivity and sunshine if your team loses tonight. Go Tech!
Futurebirds, Derek Hoke, and Huntah Fiyah will perform 12/30 at Mercy Lounge. The show is 18+, begins at at 9 PM (doors at 8 PM), and tickets are available for $12-15.