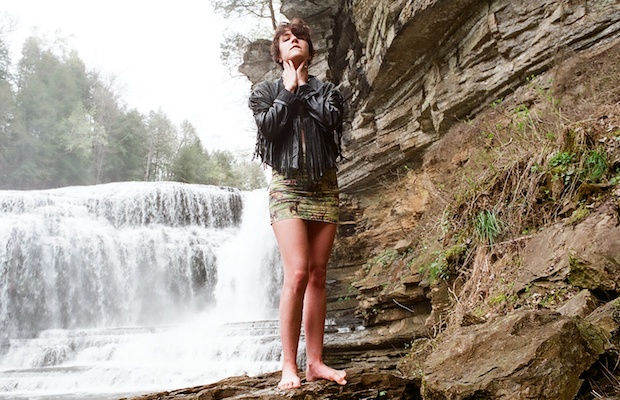 Earlier this week, we previewed and did a ticket giveaway for Tristen's CAVES album release show with Meadownoise and Penicillin Baby at The Stone Fox tonight, November 1. Show starts at 9 p.m., 18+, tickets $10.
Find out what Tristen has to say about her new direction.
No Country: Right off the bat, CAVES is more electronic than your previous releases, particularly on "Catalyst" and "House of War." What inspired you to go this route?
Tristen: I inherited an Alesis HR-16 drum machine and began experimenting with it when I started writing CAVES. I'd come up with beats and write songs to them in the demo process, and I'd even incorporate the drum machine into my live show for the stripped-down sets. I also wrote most of this record on my Lowrey organ, whereas Charlatans was more guitar driven.
No Country: How did this new sound and approach change the recording process?
Tristen: Charlatans was throw and go—bringing folks in, using what worked, re-working when needed, carving a record out of all the songs. CAVES was more intentional—I wanted to make a pop record and I wanted to blend synths and strings, live drums and electronic drums. And using electronic drums gave us more control, because we could use different sounds and manipulate everything much easier in our home studio.
No Country: CAVES covers a lot more ground genre-wise than Charlatans. There are hints of reggae, classical, dance-pop, world music. What happened between then and now that made you decide to take on a more eclectic approach?
Tristen: I think both of my albums cover a lot of ground. We're not a band where we all have our own style and together it makes one consistent sound. I think about the song as a well-structured mannequin, then I think about what suit would look best on that particular mannequin. Sometimes that's sweet country vocals, raging rock and roll guitar, warm synthesizers, strings, or maybe a reggae beat. It's really all about trying things out, bringing in the right players for the right songs, not being afraid to start over or find out what's not working, and not stopping until it feels finished.
No Country: CAVES was mixed by Stephen Hague (New Order, REM, Jules and the Polar Bears). How did he influence the sound?
Tristen: I wanted someone to mix the record who was familiar with mixing new wave and synth-pop records. I would say that Stephen brought the recordings into high definition. He played a lot of bass and also added percussion and synthesizers. We worked through the mixes one by one over a couple of months entirely through phone and email. He's absolutely brilliant and a true friend and mentor.
No Country: Your arrangements seem to increase in complexity from album to album.
Tristen: If that's true, I guess I'm getting better at recording on my own—getting proficient at Sibelius for string arrangements, learning from my mistakes, touring.
No Country: Who were your major influences for this album?
Tristen: David Bowie, Madonna, Depeche Mode, Eurythmics, Kate Bush, Kraftwerk, Prince, Echo and the Bunnymen, OMD, New Order, and the list goes on….
No Country: Conceptually, this record seems darker and a little more serious than your previous ones.
Tristen: I think all my albums are fairly dark. I like my music like I like my men and coffee: dark and bitter.
No Country: Now that you're a veteran of the Nashville indie scene, where do you think this album fits?
Tristen: I'm a songwriter, and Nashville is the best music scene in the country for that. I'm not sure what place it will have, but Nashville is my adopted home away from Chicago, and without the musicians and artists here, I couldn't have made this record.