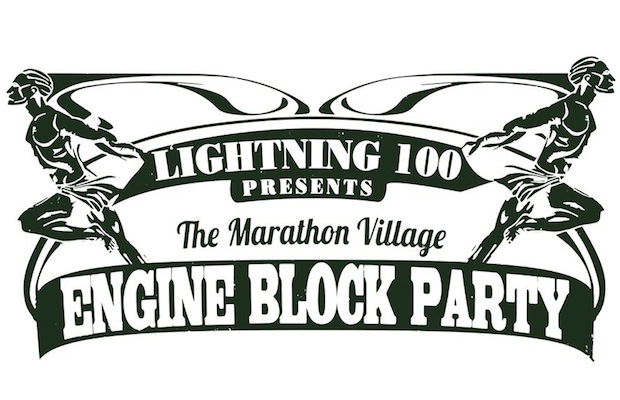 This Friday, the businesses and creative community of Marathon Village will play host to the coolest party in town. Dubbed the Engine Block Party, presented by Lightning 100, and celebrating the 100 years of Marathon Motor Works, the party will include live music, craft beer and spirits, a food truck court, and a neighborhood vendor village. Tickets are available now for $15, or for $20 the day of the show. If you're feeling lucky, we're giving away several pairs of tickets this week- keep reading for instructions on how to enter.
A VIP option, which costs $135 for a pair of tickets, is also available, and includes includes access to the Corsair Artisan Distillery VIP Lounge at William Collier's, with a side stage private viewing area of the outdoor stage and food and adult beverages included. The party is 18+, and gates open at 5 p.m.
Music for the event will be split into two stages. Outdoor performances will include headliners Vintage Trouble, as well as Red Bull Sound Select Artists Futurebirds, Kansas Bible Company, and DeRobert & The Half-Truths, with the San Rafael Band acting as the house band. An indoor, late night after party will include dance acts Heroes x Villains, Future Unlimited, Noise Floor, and Five Knives. After the jump, we've got a preview of the entire lineup, as well as details on how you can enter to WIN A PAIR OF TICKETS!
VINTAGE TROUBLE
As you may recall, we're big Vintage Trouble fans here at No Country. The funky, blues rock outfit blew us away earlier this year at Mercy Lounge, and we think they're the perfect choice to headline a party like this one!
FUTUREBIRDS
Self described as "psychedelic country," the Futurebirds bring an eclectic range of influences and a seasoned stage show to the mix. We previously featured them as a Bonnaroo Band of the Day.
KANSAS BIBLE COMPANY
One of our absolute local faves, diverse rockers Kansas Bible Company often seem to end up on the bill for these types of shows, and for good reason. They know how to bring the party with their fantastic performance!
DeROBERT & THE HALF-TRUTHS
Nashville's DeRobert & The Half-Truths are part of the funk/r&b revival we've been seeing over the past few years, and we can't get enough of it! They bring just the right mix of passion, energy, and, well soul.
SAN RAFAEL BAND [House Band]
Texas transplants San Rafael Band will provide the house music with their latin-inspired jazz sound.
HEROES X VILLAINS [After Party]
Atlanta duo Heroes x Villains are skilled remix artists, but they also have some killer, trap-inspired tunes of their own. We're expecting them to really bring the house down at the late night party.
FUTURE UNLIMITED [After Party]
We've told you all about Future Unlimited time and time again, and we're glad to see them finally performing more frequently in town. Their moody, atmospheric rock/post-punk sound is like an updated take on Depeche Mode.
NOISE FLOOR [After Party]
Nashville electro house duo Noise Floor channel a broad range of EDM styles, and specialize in remixes and mashups in addition to their own, compelling originals. Get ready to dance!
FIVE KNIVES [After Party]
You know that saying "we saved the best for last?" Locals Five Knives walk the line between EDM and electro-rock, channeling an unparalleled intensity and unreal stage show. Think a better, more amped up Sleigh Bells. You don't want to miss them!
ENTER TO WIN TICKETS
Must be 18+ to enter, per the show's age requirements. Winners will be announced Thursday, Oct. 14, at noon, and will each receive a pair of tickets. For a bonus chance to win, RSVP to the event here, and share it on your Facebook wall. Enter below (you will be redirected to your e-mail, where you will need to hit send):
If you're having issues with the above form, you can alternately send your full name in an e-mail to [email protected] with "Marathon Block Party Giveaway" in the subject line, and please let us know if you shared on Facebook.
_
Twin Forks, Matrimony, and Great Peacock will perform 10/10 at The End. The show is 18+, begins at at 8 p.m., and tickets are available to purchase for $12.50.
_