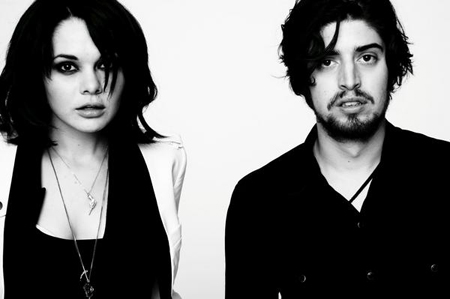 Preview
Mondays always get a bad rap. They never asked to be the worst day of the week it's just kind of how things have worked out since most people's fun times end around midnight on Sunday with work beginning early in the AM the following morning. So if you have a case of the Mondays fear not, No Country for New Nashville has a cure for your start of the work week blues. Let the new age roots music of honeyhoney wash over you and heal your weekend warrior wounds. Tonight at The High Watt they can save you from the doldrums of yet another slow, creeping countdown to the weekend.  With special guests Lera Lynn and Sam Lewis even the shittiest  Monday ever can start to suck less. Don't believe me? Keep reading …

honeyhoney
Before honeyhoney, Ben Jaffe got his start composing music for cartoons on Nickelodeon (that's a first) and Suzanne Santo was a budding actress (Law & Order, Blind Justice) who decided to trade in her scripts for a fiddle. Santo and Jaffe met in LA and formed an informal songwriting partnership in early 2008. They soon realized that had something unique and shortly after they released their debut album The First Rodeo on Ironworks Music (the label is co-owned by actor Kiefer Sutherland). Now the duo is cultivating a sound that reminds this writer of a more upbeat, twangy and less sexually tense version of the Civil Wars. A little bit country with folk lyrics and some jazz undertones, the twenty-somethings are definitely genre benders and best appreciated live. They're currently on a national tour in support of their latest work Billy Jack released on the groups own honeyhoney Records/Lost Highway imprint.
Lera Lynn
Lynn is a Nashville-based but Georgia bred singer-songwriter who's own website says her sound is beyond category. If I had to categorize  it I'd say basically it just fucking rocks. Some of her listed influences include Joni Mitchell, ZZ Top,  Lynyrd Skynyrd, Patsy Cline, Sarah Vaughan and Ella Fitzgerald. Is your head spinning trying to imagine all those wonderful combinations? Mine was too after I watched this Youtube video of her covering one of my all time favorite TV on the Radio songs. Mind … blown … in … 5 … 4… 3…

Sam Lewis
In just two days Sam Lewis recorded ten songs at Eastwood Studio in Nashville with some of the best local session and touring players our fair city has to offer. The tracks have become his self-titled debut album that's somewhere in the neighborhood of Ray LaMontagne, Bob Dylan and Hank Williams. It's definitely an intersection of sounds worth checking out.
honeyhoney, Lera Lynn, and Sam Lewis will perform tonight (10/07/13) at High Watt. The show is 18+, begins at 8:00 pm (doors at 7:00), and tickets are available for $10. You can purchase them here.