LIVE ON THE GREEN
w/ Robert Randolph & The Family Band, St. Paul & The Broken Bones, Joe Robinson
Public Square Park; Nashville, TN
August 29, 2013
Review by Jared Godar. Photos by Shawn Jackson.
We're now two-thirds of the way through Live on the Green season. As we approach the final two weeks, with Local Natives then Moon Taxi headlining, we're continuing with our weekly review series. We already gave you the rundown on Matt and Kim, ZZ Ward, and Gin Wigmore, then Matt Nathanson, The Mowgli's, and Erin McCarley, and, most recently, Michael Franti & Spearhead, The Delta Saints and Luella & the Sun. Today, we're taking a look at last week's lineup of Robert Randolph & The Family Band, St. Paul & The Broken Bones, and Joe Robinson. After the jump, you'll find a review from our new contributor, Jared Godar, as well as some great photos from Shawn Jackson.

Joe Robinson
Joe Robinson was shredding away on his guitar as I emerged from the elevator and stepped onto the lawn. Even though I arrived earlier than usual this week, the crowd seemed a little lighter, and this observation held through the evening. Those refraining from heading out missed a great show. Young Mr. Robinson attempted to blend Tennessee and Australian fashions by exchanging his fluro singlet (read: neon tank top) for a camouflage one. His technical mastery of the guitar was impressive and he did a great job of setting the mood for the evening.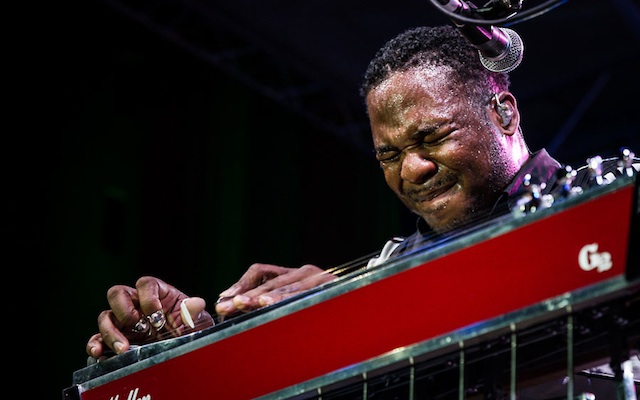 Robert Randolph
Robert Randolph & The Family Band brought it as usual, playing their hearts out to a very receptive crowd with the young and old alike on their feet, shaking what their mommas gave them. The level of energy is tough to beat, and they truly have earned the dedicated fan base that they enjoy. Polling audience members nearby, it was the exception to hear of folks seeing RRTFB for the first time. The average number of previous shows hovered around three, while the max was over a dozen. There are reasons that, once you see them, you make a point to get back.
St. Paul & The Broken Bones
For me, the real treat of the evening was St. Paul & The Broken Bones. If James Brown and Aretha Franklin somehow produced a doughy white baby, he would sound like Paul Janeway, and probably also be just as stylish. The raw, soulful refrains remind me that much of the music sent our way over the radio lately lacks a certain level of authenticity. When you do hear something pure and true like this, the lack of soul elsewhere becomes more conspicuously apparent. Whether you caught these guys at Live on the Green or not, do yourself a favor and make it a point to check them out as soon as possible. Your window for telling your friends you heard this band before they were cool is rapidly closing, if not closed already (if that's your sort of thing).
Photos by Shawn Jackson.