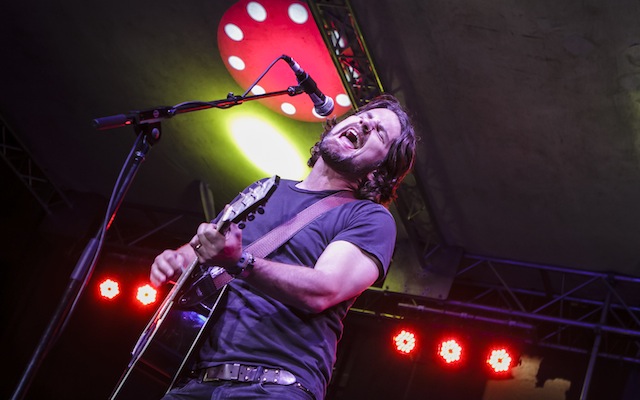 LIVE ON THE GREEN
w/ Matt Nathanson, The Mowgli's, Erin McCarley
Public Square Park; Nashville, TN
August 15, 2013
Review by Philip Obenschain (@pobenschain). Photos by Jake Giles Netter.
If you've been an avid Live on the Green goer this season, you'll have already checked out the latest installment, headlined by Michael Franti & Spearhead. We've got the rundown on this week's show coming, but, first, I wanted to take you back to last week, where I caught Matt Nathanson, The Mowgli's, and Erin McCarley. The great thing about Live on the Green, besides the fact that it's free, is that Nashville really makes an effort to find bands that appeal to everyone. And with 18 artists over six weeks, it leaves them a lot of room to do so. I'll admit, last week was all about The Mowgli's for me. I've seen Erin before, and she's lovely, and I'm not the biggest Matt Nathanson fan, but, what I discovered, is that the unlikely trio of acts, when put in Live on the Green's outdoor and eclectic setting, actually flowed together quite nicely.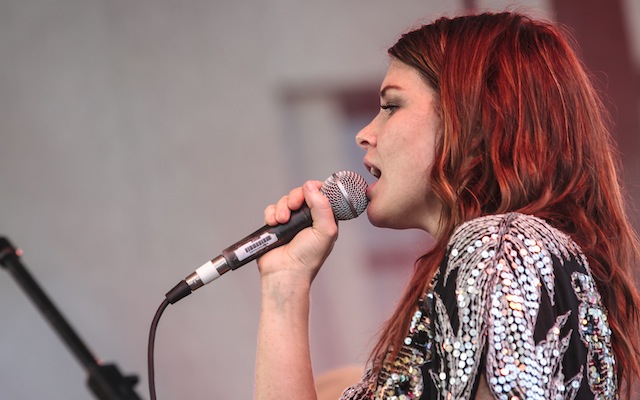 Erin McCarley
My one experience seeing Erin McCarley in the past was at East Nashville Underground back in the spring. That intimate setting turned out to be a really great first way to catch her, to get a sense of her genuine talent and ability to convey all of the emotional nuance of her work. Seeing McCarley apply that knack to a large stage, for thousands of people, and with a full backing band, however, was a whole different experience, and a really great one. Erin is a truly skilled performer, able to work the crowd effortlessly, and her hypnotizing, poppy alt-rock style is absolutely primed to be performed on a broader scale.
The Mowgli's
The night before Live on the Green, I was fortunate enough to catch The Mowgli's at a secret performance at The Stone Fox. Despite delivering an amazing set, the crowd's enthusiasm was uneven, so I wasn't sure what to expect at LotG- especially from an audience of largely Matt Nathanson fans. Though they might have been the oddballs on the bill, the west coast indie pop outfit absolutely brought the house (er, park?) down with their upbeat, uplifting, and endlessly infectious energy and stage show. This is my third time seeing the group in an outdoor festival setting recently (the other two being Bonnaroo and Lollapalooza), and it was easily the best. The Mowgli's are one of music's best kept secrets of the moment, and one that definitely won't stay secret for long. Bonus points for the fact that they brought out American Authors (their tour mates, and another fantastic up and coming band) for a cameo on their last song.
Matt Nathanson
Headliner Matt Nathanson was certainly a big grab for Live on the Green, and one that the audience was clearly thrilled out. I've long been familiar with the singer-songwriter, but have never particularly been a huge fan, nor had I had the opportunity to see him play in the past. Unsurprisingly, Nathanson performed with a seasoned skill and confidence appropriate of a platinum-selling artist of his calibre, matched by a backing band so refined and effortless, that they probably could have played the set in their sleep. Despite not knowing all of the material (but also being surprised by how much of the set I did know), I found him to be thoroughly enjoyable; a perfect artist for an outdoor stage, to watch with your friends while sipping a beer. He's got more substance than your run of the mill top 40 singer-songwriter, and his success is well-deserved. Though his style is still not exactly my cup of tea, after Live on the Green, Nathanson definitely won my respect as a performer.
_
LIVE ON THE GREEN OFFICIAL AFTER-PARTY
w/ Five Knives, Jacob Jones, Coach, DJ Rate
Marathon Music Works; Nashville, TN
August 15, 2013
Photos by Jake Giles Netter.
I didn't make it to the after-party, but our photographer did. They say a picture is worth a thousand words, and it seems like Jake took a thousand pictures. Here are some of the party's best moments: