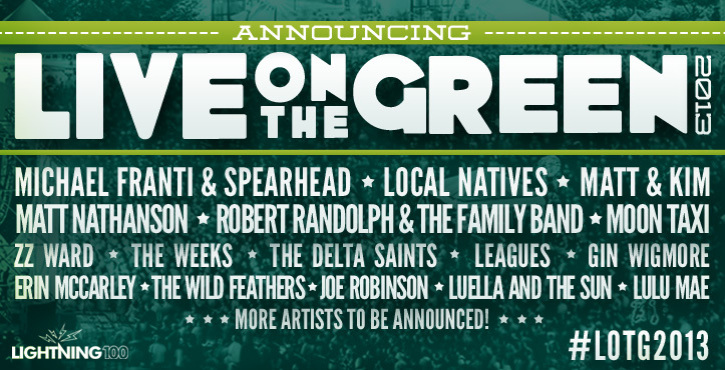 Live on the Green, the free, annual, six-week concert series held in Nashville's Public Square Park has announced its lineup, dates, and schedule for the 2013 season. In what might be its strongest season yet, the series will include headliners Michael Franti & Spearhead, Local Natives, Matt & Kim, Matt Nathanson, Robert Randolph & The Family Band, and Nashville's own Moon Taxi.
LotG really upped the ante on their supporting acts this year as well, pulling a local heavy lineup of ZZ Ward, The Weeks, The Delta Saints, Leagues, Gin Wigmore, Erin McCarley, The Wild Feathers, Joe Robinson, Luella and the Sun, and Music City Mayhem winners Lulu Mae. Additional supporting acts will be announced at a later date. Check out a playlist of the entire lineup so far, below!
The series takes places every Thursday from August 8 to September 12, and is totally free and open to all ages. VIP tickets are also available for purchase, which include preferred stage access and complimentary beverages, among other perks. More information about Live on the Green can be found here.
[UPDATE: LotG has announced their 2013 schedule. Check it out, below!]
Aug 8 – Matt & Kim w/ ZZ Ward & Gin Wigmore
Aug 15 – Matt Nathanson w/ Erin McCarley
Aug 22 – Michael Franti and Spearhead w/ The Delta Saints & Luella and the Sun
Aug 29 – Robert Randolph & The Family Band w/ Joe Robinson
Sept 5 – Local Natives w/ Leagues & Lulu Mae
Sept 12 – Moon Taxi w/ The Weeks & The Wild Feathers