On Wednesday, Black Rebel Motorcycle Club took Nashvillians to the church of voodoo rock n' roll. And it was good.
The trio saturated Cannery's thousand person-capacity room with a bluesy, angst-filled wall of sound rivaling a show at Bridgestone Arena, with an equally epic light show.
Check out our review & some stellar shots by photographer Shawn Jackson after the jump.
I joined my denim vest-wearing brethren at Cannery Ballroom on Wednesday night for an evening of dirty, fuzz-laden guitar riffs and driving drums. BRMC brought it, and they brought it hard.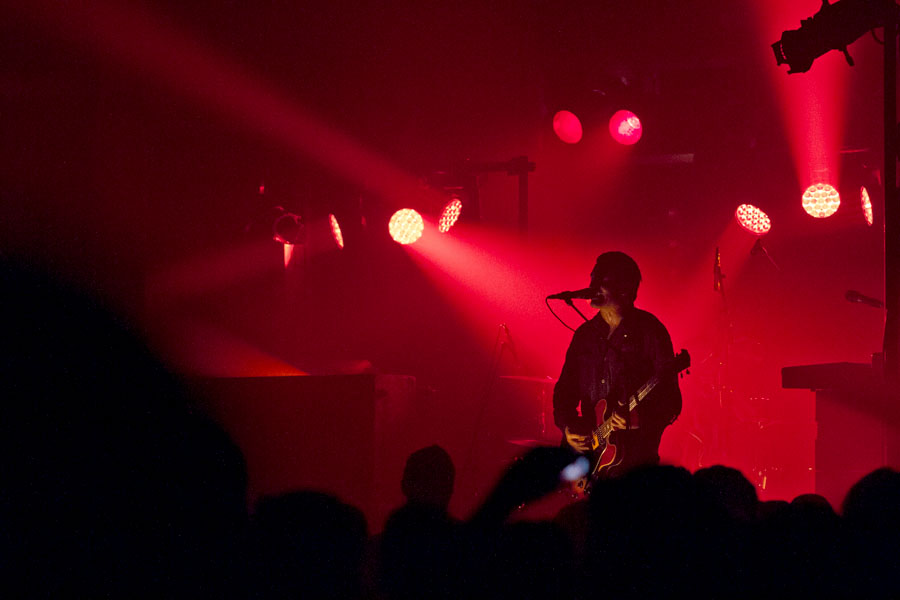 There's something magical about seeing a trio – especially one as tight as BRMC. As my dad pointed out to me when I was a 13-year-old trying to learn guitar, the bands that I saw as my role models were primarily trios: RUSH, The Police, Nirvana (non-Pat Smear days). A trio can either prove to be incredible or incredibly lacking, and BRMC certainly proved to be the former. Rock n' roll isn't about perfection, although these three come pretty damn close. BRMC embodies all that is honest and pure, but at the same time downright dirty about rock n' roll. 
Robert Levon Been (pictured above, right), Peter Hayes (middle), and Leah Shapiro (left) wasted no time, opening up their set with an emotional performance of "Let the Day Begin," the first single from their 2013 release Specter At the Feast . The song was written and originally performed by Been's late father Michael Been, who fronted 80's cult band The Call and died in 2010 while on tour with BRMC in Belgium. The younger Been gives creative tribute to his father by re-imagining the song BRMC-style, yet stays true to the original message of the dark yet optimistic track. [Check out the links below for free downloads of both (in exchange for your email!) and compare for yourself!]
The trifecta had maybe a minute and a half total of downtime during their solid two hour set, and quickly reappeared for an encore after their set's conclusion, acknowledging the crowd multiple times. The band performed an expansive smattering of songs, including favorite tracks from each of their 7 albums. Highlights included dancy, dirty tracks such as "Hate the Taste" (from their most recent album), "Six Barrel Shotgun" from their 2008 release, and contemplative acoustic performances by Been on both guitar and piano.
Check out their performance of "Hate the Taste" on The Tonight Show with Jay Leno:
You can download BRMC's Let the Day Begin EP here for free by simply joining their mailing list.
There is also a current PledgeMusic campaign to fund the DVD and audio recording of two historic Call reunion shows which will feature the younger Been following in his father's footsteps both on lead vocals and bass.
You can also get a free download of The Call's original recording of "Let the Day Begin" here on their PledgeMusic page.
Grab BRMC's Specter at the Feast at your favorite local record store on CD or give your ears a treat and grab it on 2-LP vinyl.