Presented by AEG Live / The Messina Group, dance punk legends THE FAINT will be performing their classic album Danse Macabre in full TOMORROW NIGHT (11/30) at The Cannery Ballroom. If that's not exciting enough news by itself, No Country and AEG/TMG are partnering up to give away two free pairs of tickets (details below)! Congrats to our ticket winners: Amanda Taylor and Robert Andrews! 
Dance music is all the rage these days, but The Faint were fusing dance music with punk and indie rock before it was "cool." 10 year record release anniversary tours have become all the rage lately as well (we really loved David's Bazan's Control tour last week) and though The Faint missed that mark by a year, they're on the road in support of Saddle Creek's recent remastering and rerelease (in a deluxe edition which includes bonus tracks) of their 2001 breakthrough record Danse Macabre. It's been a few years since The Faint have been particularly active (its members have been performing and DJing sporadically under the name Depressed Buttons for the past few years) and they, along with the Saddle Creek scene at large, have fallen off of the radar a bit. Even if you haven't given the band a second thought in half a decade though, watch the video below and tell me it doesn't take you on an immediate nostalgic trip down memory lane.
Not only in this show a rare chance to see an amazing band that seldom plays out anymore, but a chance to hear what is arguably their greatest album performed in full (and, of course, a lot of other material- Danse Macabre is only 35 minutes long after all!). Their live show is an immersive, visual spectacle and their performance style is aggressive, energetic, and amazingly raw and intimate while maintaining mind-blowing precision. Get nostalgic and get ready to dance, because a show this fun is too fantastic to miss!
[spotify id="spotify:album:5xStAyAyYcZJQ1ZFhQfplo" width="300″ height="380″ /]
Opening the show is Trust. Touring in support of his recently released debut TRST, the Canadian electronic artist plays a dreamy, textured brand of vocal-driven old school electronic dance music (you won't hear any dubstep here). He's incredibly talented and a lot of fun, letting his embellished, over the top dance music tendencies run wild for huge, party-ready jams.
[soundcloud url="http://api.soundcloud.com/tracks/33915591″ iframe="true" /]
The Faint and Trust perform tomorrow night (11/30) at The Cannery Ballroom. The show starts at 8PM (doors at 7PM) and tickets are still available here.
HIT "CONTINUE READING" TO FIND OUT HOW YOU CAN WIN FREE TICKETS TO THE SHOW!
TICKET GIVEAWAY CONTEST RULES

TICKET CONTEST IS NOW CLOSED. CONGRATS TO OUR WINNERS: AMANDA TAYLOR AND ROBERT ANDREWS. MORE CONTESTS COMING SOON!
We've got two sets of tickets to give away, and two different ways you can win. Here's all the info: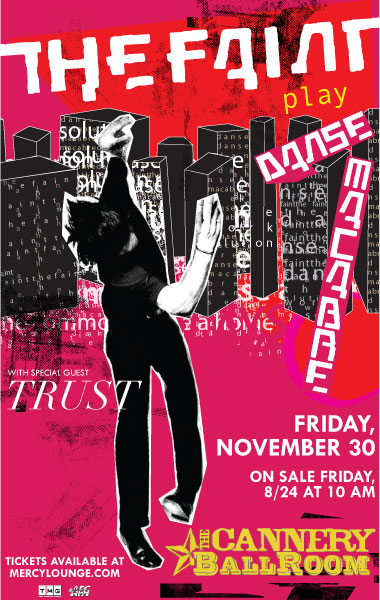 Giveaway#1:
1. Get social: "Like" No Country, AEG/The Messina Group, and The Faint on Facebook.
2. Promote: Share the concert poster on your Facebook wall (you can view a larger version by clicking on the image).
3. Let Us Know: Be sure to also tag No Country for New Nashville and AEG Live/The Messina Group so that we know you've entered!
That's it! In the meantime, you can stream the deluxe reissue of Dance Macabre on Spotify in anticipation while you wait! You can also pick up a hard copy on CD or Vinyl at Grimey's or download it on iTunes!
Giveaway #2:
This one's easy: Head to No Country's Instagram page and follow us for the details.
One winner will be selected from each giveaway. Each winner will receive a pair of tickets. You may participate in both to increase your chances of winning, but you're only eligible to win once. Alternately, you can participate in one giveaway or the other and still be eligible to win. Contest closes at 3PM tomorrow (11.30.12) and winners will be notified immediately. Thanks and good luck!