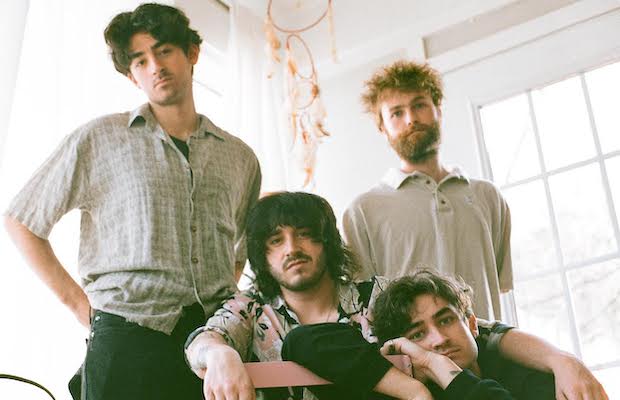 Though their roots trace back a number of years, formed by brothers and lifelong musicians Graham and Miles Laderman, and close friend Val Hoyt, in their native Atlanta, it wasn't until individually relocating to Nashville, regrouping and rounding out their lineup with Noah Christian, and undergoing something of a formal reboot of their sound and style (including wiping prior material from the internet), that indie rockers Hardcastle really caught our attention back in 2018, erupting with a string of buzzy singles that year like "I Never Knew" and "Invisible."
In the short time since, the band have seen breakout success online, amassing millions of streams and attracting a passionate following, priming them to follow in the footsteps of fellow Nashville based kindred spirits like COIN and The Band CAMINO (for whom they've already supported on tour). Citing inspiration from acts like Coldplay, Oasis, and U2, the group's poppy, indie sound harbors a distinctive quality from some of their peers, fitting in just as easily with the contemporary, genre-bending stylings of acts like The 1975 and LANY, as with '90s and '00s alternative pop and rock, and leading Hardcastle to shows with the likes of Parachute, K. Flay, and Angels and Airwaves.
Continuing to hone their impressive and captivating sound through a regular stream of singles, most recently "What If I'm Happy" earlier this year, Hardcastle are set to drop their latest, "Growing Pains" tomorrow, March 25- however, we're thrilled to bring you an exclusive early premiere today, which you can stream right now below!
Produced by Kyle Dreaden and co-written with Danny and S.E. Berrios, the group's Graham Laderman tells us that "'Growing Pains' feels like something of a milestone for us. Definitely the clearest example of the band feeling like a living, breathing thing beyond just the sum of its members. We're looking forward to spending the next year leaning into the most honest version of ourselves."
The result is an endlessly catchy, propulsive, and earnest track that channels hints of alt rock acts of eras past like Third Eye Blind, with some pop punk bite, huge harmonic hooks, and perhaps the band's most refined songwriting to date. Not only is it our favorite Hardcastle song yet, but also further proof that to simply lump them in with the current indie pop rock scene (including some of the comparisons we've made above) really undersells just how far-reaching and unique this group's influences are. Certainly primed to be one of Nashville next breakout acts, hear Hardcastle's "Growing Pains" below, then find it everywhere tomorrow!
Finally, we should also note that as of right now, Hardcastle are also set to headline The Basement on April 24, but we'd recommend keeping an eye on the calendar, as it is still unclear what things will look like in a month in regards to live music (fingers crossed).
More from Hardcastle | Site | Facebook | Twitter | Instagram