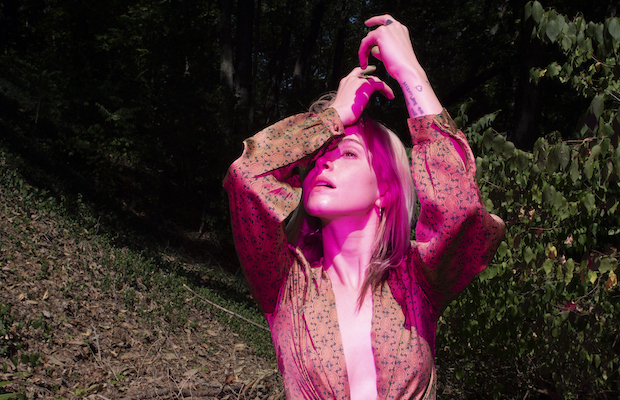 It's been an eventful few months for local artist Hayley Williams, who, while taking a momentary breather from fronting beloved and long-running alt rock outfit Paramore, has been rolling out her first proper solo release. After teasing the title Petals for Armor, eventually revealed to be an LP due out May 8 via Atlantic, Williams made a stunning debut with her first single and video, "Simmer," back in January. A complimentary but stylistic departure from her work with Paramore (though still brought to life with collaboration from many of the same friends, bandmates, and creative personnel), it was revealed soon after that the "Simmer" video was part of a narrative series, weaved together by interludes, with a followup, "Leave It Alone," dropping soon after, followed by another distinctly different and excellent tune and video, "Cinnamon," last month.
Along with "Cinnamon," Hayley pulled a move out of the Beyoncé playbook and graced us with a surprise record drop- presented as "part 1" of Petals for Armor in the form an EP, simply titled Petals for Armor I, also featuring two additional tracks, "Creepin'" and "Sudden Desire." All the while appearing on BBC Radio 1, Apple's Beats 1, a live performance at Fashion Week, a cover art unveil, and even a recent and incredibly personal New York Times interview, where, among other things, she revealed that boygenius (the supergroup of Julien Baker, Phoebe Bridgers, and Lucy Dacus) would appear on the album, we've been patiently and eagerly awaiting any sort of news on live performances.
Fortunately the wait is over, as Williams has announced the first leg of her Petals for Armor Tour, which kicks off with a short run of European dates in May, before a trek of North America, largely throughout June. Currently, the run caps off with a hometown show June 29 at Nashville's brand new Brooklyn Bowl with Arlo Parks, which, like all venues on this tour, is a fairly intimate setting for the renowned singer. Fan who pre-order the LP through Hayley's site will get exclusive early ticket access, or you can also register through Ticketmaster's Verified Fan program before Sunday. The general on sale will be Friday, March 13 at 10 a.m. CDT right here, with pre-sales apparently set to begin Tuesday, March 10. These shows are all but guaranteed to sell out quickly, so we encourage you to stay on top of tickets if you're hoping to score a spot.
While you wait on tickets, catch up on Williams' latest, with a series of very cool lyric videos for four of the EP's five tracks. The lyric video for "Simmer," her first solo single of the three which previously got music video treatment, provides a behind the scenes look at the making of the video and well as in-studio footage from the recording of the track, as does "Leave It Alone" (particularly cool to see the behind the scenes creature transformation), while the lyric video for "Creepin'," one of two tunes from the EP not yet to get a full music video, is a little more avant-garde, almost like a homemade music video, and her most recent, for "Cinnamon," chronicles everything that went into the complex choreography which made the video so unique. Notably one tune from the EP, "Sudden Desire," has yet to receive a lyric video, but in keeping with the pattern of prior spots, we expect it to drop next week. Watch them all below, along with a full list of tour dates!
UPDATE: Due to overwhelming demand, Williams has added a second night at Brooklyn Bowl Nashville, on June 30. A portion of proceeds will benefit Hands on Nashville, and pre-sale tickets are available now (using prior access codes), with public on-sale set to begin tomorrow, March 13 at 10 a.m. CDT (the same as the June 29 date) right here. We've also added the singer's fifth (and presumably final, for this EP) lyric video, for "Sudden Desire" below, another spot featuring some cool behind the scene footage.
More from Hayley Williams | Facebook | Twitter | Instagram
May 28 – Seattle, WA – Moore Theatre
May 30 – San Francisco, CA – The Masonic
June 1 – Los Angeles, CA – The Wiltern
June 3 – Denver, CO – Paramount Theatre
June 5 – Dallas, TX – HiFi
June 6 – Houston, TX – House of Blues
June 8 – Orlando, FL – House of Blues
June 10 – Atlanta, GA – Tabernacle
June 15 – Charlotte, NC – The Fillmore Charlotte
June 17 – Silver Spring, MD – The Fillmore Silver Spring
June 18 – Philadelphia, PA – The Fillmore Philadelphia
June 20 – Boston, MA – House of Blues
June 22 – Toronto, ON – Rebel
June 24 – Brooklyn, NY – Brooklyn Steel
June 26 – Chicago, IL – House of Blues
June 27 – Detroit, MI – The Fillmore Detroit
June 29 – Nashville, TN – Brooklyn Bowl Nashville
June 30 – Nashville, TN – Brooklyn Bowl Nashville