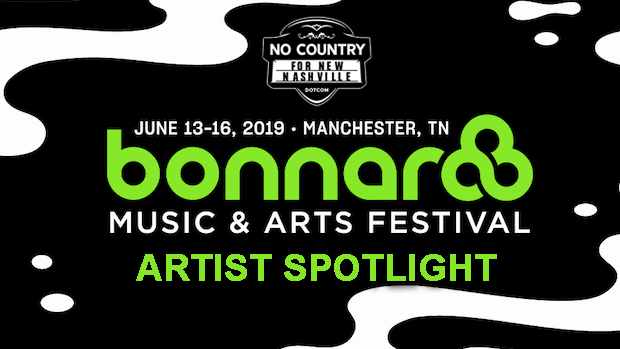 Bonnaroo Artist | Honey Harper
Bonnaroo History | Newbie
Stage & Time | Saturday | Who Stage | 1:00-1:45pm
As we've been doing for the past several years now, we're making it our mission to help you get acquainted with many of our favorites acts from from Bonnaroo's impressive 2019 lineup. As we dig through the entire schedule, we'll highlight a spread of performers spanning across genres and stages (including the campground Plazas), big and small, new and old, to bring you some of the most interesting, lesser-known, or most highly-recommended among this year's crop of artists. Though we'll be jumping around, we're loosely working our way through by day, and we'll also be bringing you some special features and longer guides along the way, to help you plan your weekend before the fest. While these previews won't span every performer, and might omit some more obvious must-see acts, we hope they'll serve as a way to help you navigate Bonnaroo's gargantuan lineup, and to make the most of your busy weekend on the farm!
Grab your tickets right here if you haven't already, and keep reading to learn more in our Bonnaroo Artist Spotlight…
LEARN
Though he was raised in Georgia surrounded by country music, musician William Fussell didn't formally make his debut in the country scene until just a few years ago, now based in London and operating under the moniker Honey Harper. An indie rocker at heart, Fussell initially found success in the early '00s with post-punk group Mood Rings, and even after his UK move, continued in that lush, moody indie vein, releasing solo music under the name Promise Keeper. However, by 2017's debut EP Universal Country, Fussell had embraced his country roots, fusing classic elements of lonesome, story-driven, cosmic country with the layered, textured, and moody ethos of his prior musical endeavors, emerging as an interesting, alternative new voice at a time when an underground country revival has been swiftly permeating the zeitgeist, and establishing Honey Harper just as much as an alter-ego and persona than simply a new musical endeavor.
Released through Canadian indie label Arbutus Records, Honey Harper's debut feels as much a nostalgic, wistful, throwback to classic alt country like Gram Parsons, as it does a contemporary, thoughtful, progressive vision a la Kacey Musgraves or Sturgill Simpson, positioning Harper, though still underground, as an intriguing and buzzworthy new figure in the country scene. Now signed to ATO Records, he's released a couple new singles in recent months- "Strawberry Lite," "Vaguely Satisfied," and "Tomorrow Never Comes"- all of which manage to further hone the layered sound and Honey Harper ethos, complimented by an artsy, forlorn, and retro visual palette. Saturday is absolutely packed with quality country- a symptom of CMA being staggered this year- with legends, newcomers, and contemporary stars. While Honey Harper's early afternoon Who Stage set might be easy to overlook, it's a must-see for any fan of thoughtful, timeless, and unique alternative country with indie rock flair!
 LISTEN | "Secret"
 WATCH | "Strawberry Lite" (Official Music Video)
CONNECT
More from Honey Harper | Site | Facebook | Twitter | Instagram
More from Bonnaroo | Site | Facebook | Twitter | Instagram | Tickets