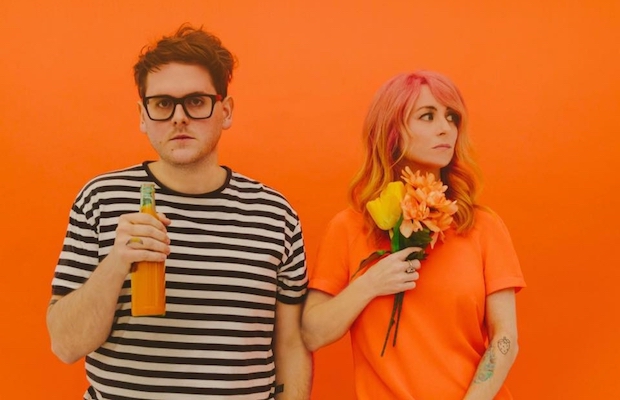 Husband an wife duo *repeat repeat are longtime friends of the site and a longtime local fixture, helping forge and facilitate a space for exciting local acts on the rise with their beloved East Nashville Underground concert series, which also served as a backdrop for some of their earliest shows. Founded by frontman Jared Corder, the band's nostalgic, harmonic, garage rock sound nods to '60s California surf music and, more recently, has evolved into a frenetic indie pop, filled out by the harmonies of his wife Kristyn, who lent her vocals to early sessions at a producer's encouragement, and soon became a permanent fixture, also handling keyboards and shaping the band's vibrant and stunning visual aesthetic.
Anchored by the Corders, *repeat repeat went from local buzz to national with their debut record, Bad Latitude, in 2014, and after constant touring and mounting attention, inked a deal with Dangerbird ahead of 2017's more adventurous, confident, wistful, and pop primed followup, Floral Canyon. For their most recent and third LP, Glazed, which just arrived on Friday, the duo, who've spent the past few years playing increasingly more high-profile shows, appearing at events like Bonnaroo and Live on the Green, and continuing to organically grow their passionate fanbase, tapped producer Patrick Carney (of The Black Keys) to help craft their most nuanced, earnest, visceral effort yet, doubling down on both their more dark, confessional, and earnest thematic tendencies while balancing their sugary, glistening pop sweetness.
A joyous and engaging live band, *repeat repeat seem well on the way to becoming Nashville's next big rock success story, and with a tour on tap with The Black Keys and Modest Mouse later this year (which will stop at Bridgestone Area Oct. 1), we have no doubt that 2019 will finally see the duo get more widespread, mainstream attention. On the heels of Glazed's release, which they've been building to for months with stellar, stunning, and diverse new tunes like "Head On," "Pressure," "Apocalyptic," and, of course, buzzy lead single "Hi, I'm Waiting," *repeat repeat are set to celebrate with a hometown headlining show, their first of the year, tonight, June 2 at 3rd & Lindsley! Local genre-bending, indie rock duo Airpark are set to open, and tickets are available here while they last. Whether you've been championing these scrappy local rockers for years, or just jumped on the bandwagon thanks to their wonderful new record, *repeat repeat are without a doubt one of Nashville's finest acts- show them some hometown love!
*repeat repeat and Airpark will perform tonight, June 2 at 3rd & Lindsley. The show is all ages, begins at 8 p.m. (doors at 6 p.m.), and tickets are available to purchase for $12.
More from *repeat repeat | Site | Facebook | Twitter | Instagram